How to promote a podcast
10 podcast marketing ideas for 2023
Want more listeners for your podcast? Here are ten ways to promote your show and get more listeners for your podcast in 2023. Use these tactics to promote your podcast and grow your audience:
Record a trailer for your podcast
A movie trailer helps attract an audience for a film. A podcast trailer does the same for your podcast.
Three reasons to publish a podcast trailer as early as possible:
You need at least one episode published in your feed, and a trailer is a perfect "first episode."

It can take 5+ days for Apple to manually review your podcast submission. If you publish a trailer to your feed right away, it allows you to submit to Apple well in-advance of your first official episode.

Once you've submitted your podcast to Apple, Spotify, etc, you can start building anticipation for your podcast's official launch.
Here's an example from our podcast:
Your podcast's teaser should be:
Short – 30 seconds is good, 5 minutes max.

Energetic – include clips that give listeners an idea of what your show will contain.

Shareable – create a teaser that people will want to share: "I can't wait for this show to come out! Subscribed."
Podcast hosts, like Transistor, allow you to choose "Trailer" as an episode type.

Build anticipation before you launch
Your biggest opportunity to promote your podcast happens before you launch your show.
The days, weeks, or months leading up to your first episode dropping are fertile ground for building up excitement.
Create a "coming soon" web page for your show
If you really want to build anticipation and build your mailing list at the same time, create a landing page for your podcast.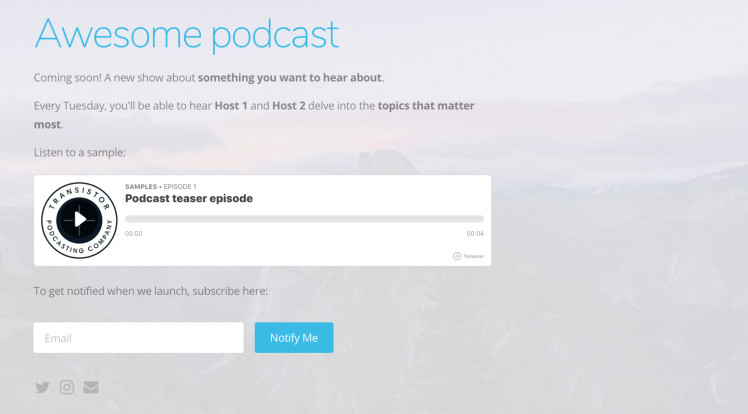 This page has two purposes:
Build your waiting list – getting people to sign up with their email address will enable you to engage with your audience leading up to the launch of your show.

Subscribe with their podcast app – if you have a trailer published in your RSS feed, folks can subscribe to your podcast in anticipation of your first official episode.
Email your waiting list!
What should you be sending your email list? People want to see behind the scenes! Share your journey as you prepare to launch the podcast. Here are some ideas for email content:
Show them photos of you recording the show, and your studio setup

If you're recording with guests, snap a photo, and send that. (Example)

Send audio samples from upcoming episodes

Tell your fans how they can spread the word
Submit to podcast apps and search engines
First, you'll want to make sure you submit your podcast to Spotify, Apple Podcasts, Google Podcasts, and other podcast listening apps.
Additionally, there are some podcast-specific search engines and directories you can submit to:
SEO (search engine optimization) for podcasts
Apple Podcasts, iTunes, Spotify, and Google Podcasts use podcast search engines to help listeners find interesting podcasts. This means you need to use keywords (relevant search terms) to your advantage. 
Optimize your show for search in podcast apps
Someone looking for the best podcasts about farming will search "best farming podcasts." 
If your podcast is called "The Farming Podcast," you're more likely to get found, as opposed to calling your show: "Steve Smith – the modern agrarian." 
Ideally, you'll want to include your target keywords in the title of your show. Many podcast apps will only index the names of the podcasts themselves (not the descriptions).
Optimize your podcast for Google search results
In 2019, Google started indexing podcasts. This means that podcasts now appear in regular Google search results.
However, getting your podcast to be indexed by Google is tricky!
First, you'll need to have a website for your podcast with an <link> element that points to your RSS feed. (Websites generated by Transistor do this automatically).
Next, you'll also need a sitemap that you can submit to Google Search Console. A sitemap gives search engines a list of the pages on your site, so they can accurately index it. For example: saas.transistor.fm/sitemap.xml
Once Google is crawling your site, it generally takes a few days for Google Podcasts to find it and index it. So be patient! (Don't confuse Google Podcasts with the (now deprecated) Google Play. They're separate!)
If you've done everything correctly, your podcast's episodes should start appearing in Google searches like this: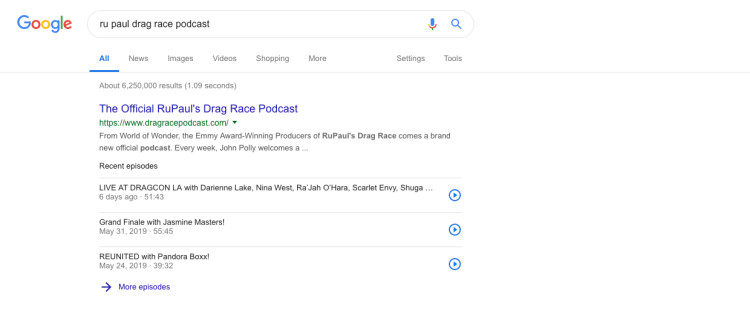 Google has also started transcribing your podcast's audio in the background, so they can match search terms with things you've said in your episodes. 
In the future, expect podcasters to use the same search optimization tricks people do on YouTube. You'll need to think through your episode titles, the first paragraph of text in your show notes, and what you say in the show's introduction.
Send a regular email newsletter to your listeners
Do you already have a newsletter list? Tell them about your podcast!
One of our customers, Josh, sent an email to his list about his podcast and did 3x the listens in one day:

Cross-promote on similar podcasts
You may have noticed podcast networks using this technique: they'll insert a teaser for a different podcast into a popular show's feed. They do this because it works!
You can find shows that have a similar audience to you:
Go to Apple Podcasts, and search for your show

Scroll to the bottom and find the section that says "Listeners also subscribe to"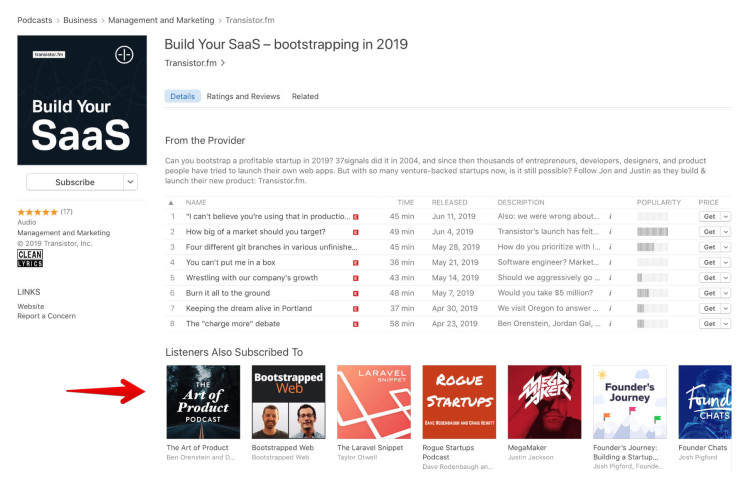 Once you've found a podcast that might be a good fit, reach out and ask if they're interested in some sort of cross-promotion. Sometimes, this means doing an episode exchange (you post one of their sample episodes in your feed, and they do the same for you). 
Promote your podcast in online communities
You should also be engaging in communities where your audience hangs out. The purpose here isn't to spam links to your show. Instead, be an active participant on relevant Facebook Groups, forums, and Reddit subreddits. Then, when appropriate, link out to specific shows (but only if they're related to the current topic of conversation!). 
Create shareable podcast video snippets
Sharing a teaser clip of your podcast on social media is a great way to promote your show. Here's an example of one we created for Andy Mineo:
There are several 3rd-party apps you can use to create audiogram clips like this. Once you've created an audiogram, you can share it on Twitter, Facebook, or Instagram. Here are some apps to try:
Go to events, meetups, and conferences
You can also spread the word in person! Go to tradeshows, conferences, and meetups that relate to your audience. When people ask you, "so, what do you do?" you'll have a great opportunity to tell them about your podcast.
There are also virtual events you can go to. For example, on Twitter Spaces you can join a room and engage in conversation.
Build a full website for your podcast
It's not enough to just be listed on Apple Podcasts and Spotify. The easiest way for someone to find (and share) your podcast is if you have a website for your show.
Your website should have the following elements:
A homepage that describes what the show is about, with the ability to listen to an episode.

Landing pages for each of your episodes, with full show notes.

An "About" page that describes your show in more detail and introduces the hosts.

A "Subscribe" page that enables people to easily open your podcast in their favorite app.
You can use this tool to build a free website for your podcast: freepodcastwebsites.com
Examples of podcast websites:
The big secret: your content has to be compelling
There may be millions of podcasts, but if we're honest, I think we can admit that most podcasts aren't that good. The key to growing a podcast is to make your podcast interesting for your intended audience.
For your podcast to succeed, you needed to be one of three things: the first, the best, or different

– Jeffrey Cranor, co-creator of Welcome to Night Vale
To grow your audience, your will need to make your podcast extraordinary. If most content is mediocre, the way to stand out from the crowd is to make compelling content.
If you want to get started with Transistor, you can sign up here.