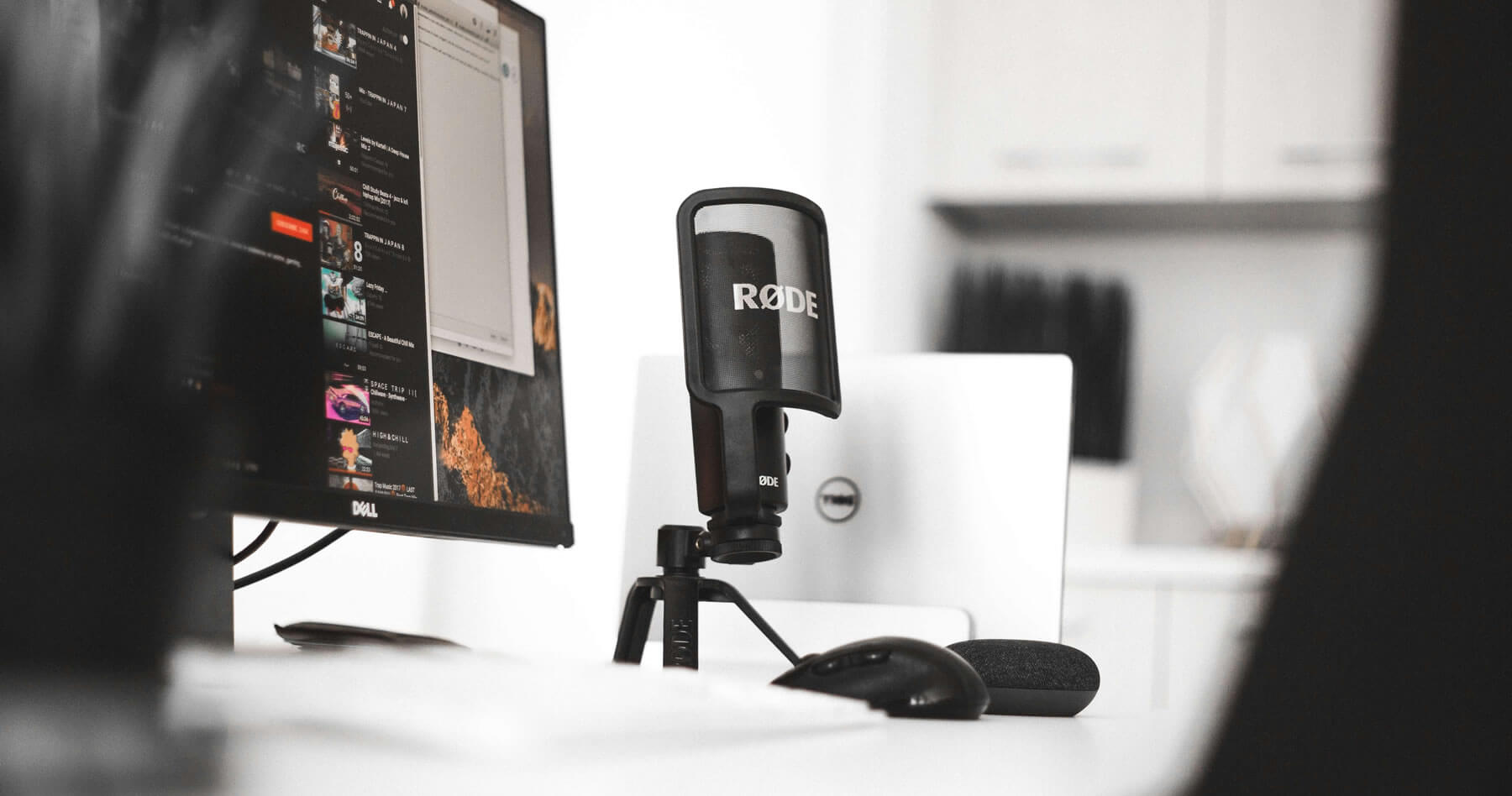 What podcasting equipment should you buy?
Best podcasting microphone
A lot of folks used to recommend the Blue Yeti USB microphone. However, this is a condenser microphone that will pick up a lot of room noises (especially any thumps or bumps you make while recording).
Here are some better microphone options (from least expensive, to most costly):
Best podcasting preamps and USB audio interfaces
If you're using an XLR microphone, you'll need to connect it to your computer via a USB interface. Most of these have two (or more) inputs, which will allow you to record multiple microphones at the same time. Here's an example: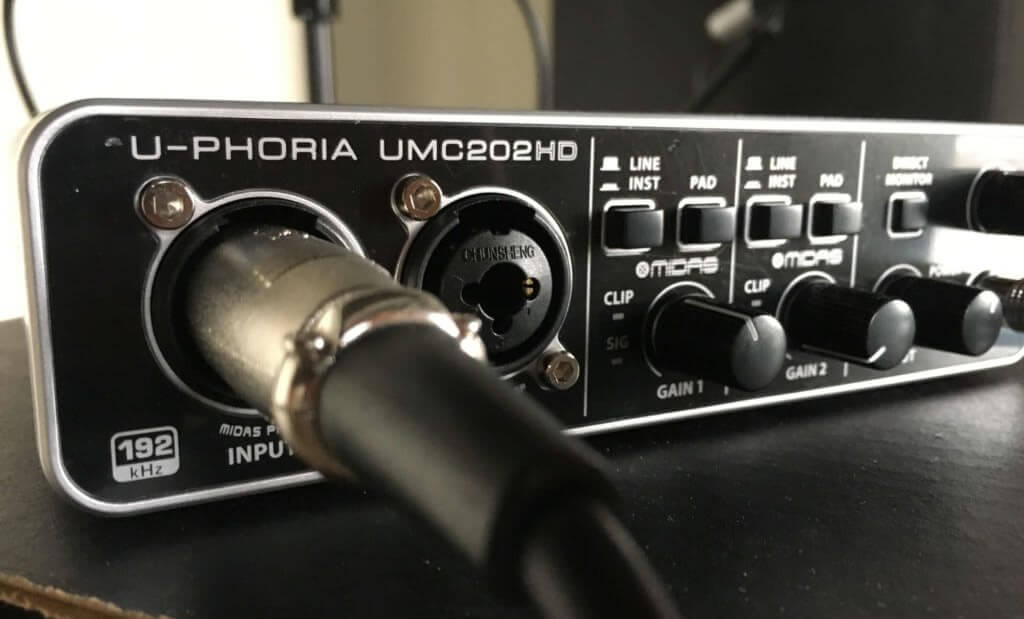 BEHRINGER UMC202HD ($99 USD) – I've been using this little preamp + USB interface for the past year, and really like it. It's the most affordable USB interface I've found and is comparable in quality to the Scarlett (below).

Focusrite Scarlett 2i2 ($160 USD) – used by thousands of podcasters, the Scarlett is a popular USB interface.

DBX 286S Preamplifier ($219 USD) – my friends Sean McCabe and Matt Giovanisci swear by this preamp. Matt says: "I don't need a lot of soundproofing in my room with the DBX. It has a very effective gate that cuts the room noise out." Sean recommends setting the DBX input gain at 50–55, and output gain at 0–5db. "To be clear," he says, "you still need an audio interface with the DBX 286s. It's a pre-amp, not an interface. You can't connect it to your computer without something like the Scarlett."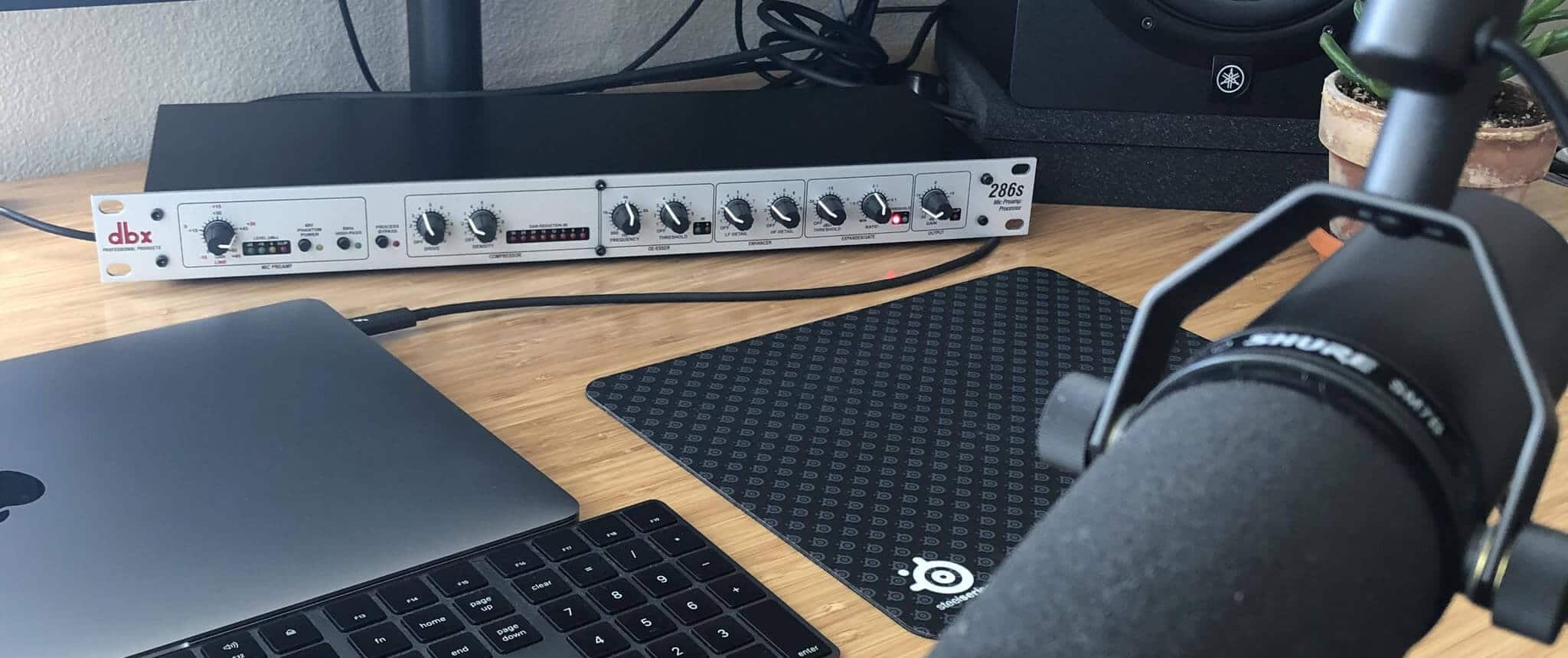 How to record and edit your podcast
Now that you have your microphone, and you can plug it into your computer, you'll use audio editing software to record and edit your first episode.
Best podcasting editing software
How to publish your podcast audio
Once you've created your audio, it's time to upload it to a hosting provider, and generate your podcast feed. Every podcast needs:
A web server to host MP3 files,

A way to create new episodes, and add show notes,

A way to publish new episodes, and update the podcast's RSS feed,

And a way to generate a valid RSS feed.
This is where a podcast hosting company comes in.
Best podcast hosting and analytics platform
Transistor ($19 / month) – we started Transistor for professionals who are serious about their podcast. We provide a website for your podcast, a place to store your MP3 files, an iTunes-ready RSS feed, and detailed analytics.

Anchor (free) – if you're starting a hobby podcast, Anchor is a nice way to get started.

Soundcloud (free) – is another popular place for folks looking for a free hosting solution.
How to get your podcast on Apple Podcasts, Spotify, Google
Your hosting provider should give you a valid RSS feed for your podcast.
Now, you can submit that RSS feed to different podcast players (like Apple Podcasts, iTunes, Spotify, Google Podcasts) so that listeners can easily find your show, and play your audio.
Podcast distribution works like this: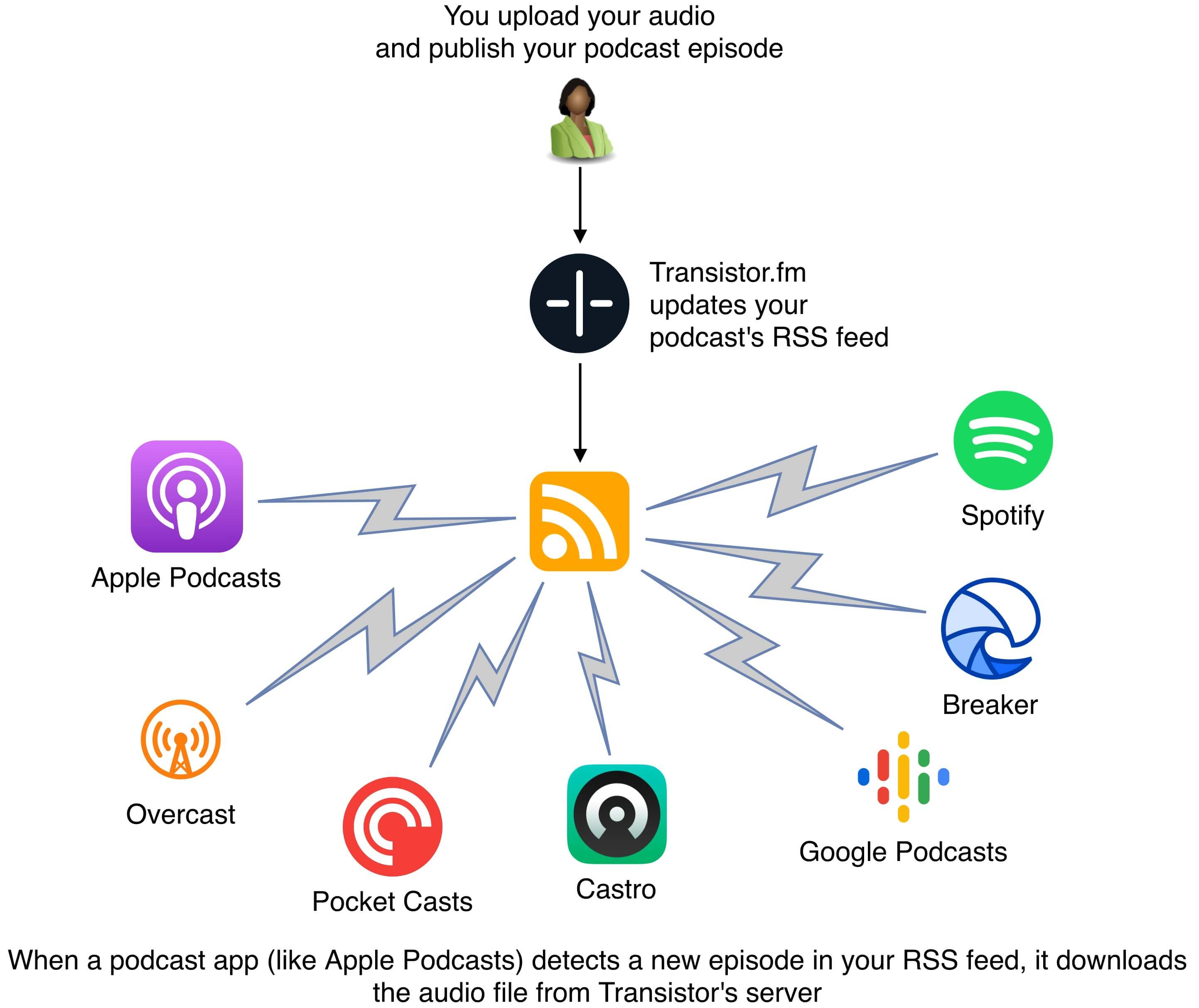 For more information on how podcast distribution works, read this guide.
Most popular podcast listening apps
Make sure you submit your RSS feed to these podcast players. (I recommend submitting in this order)
Like I mentioned, apps like Overcast and Castbox scrape the Apple Podcasts directory, so if you submit first to Apple, you'll eventually show up there too.
How to promote your podcast
The foundation has been set! You have recording equipment, you've uploaded your first episodes, you've submitted your feed to various players; now you'll want listeners.
According to Edison Research (2019), here are the top three ways listeners find podcasts:
Searching the Internet (73%)

Social media posts (67%)

Recommendations from Friends/Family (66%)
To succeed with podcast promotion, you'll want to target those channels!
Best ways to market your podcast
Marketing a podcast is a big topic, but here are some quick tips:
Build anticipation before you launch – one big opportunity many folks miss is building up anticipation before they launch. Create a "coming soon" web page for your show, and get folks to sign up for a waiting list. Send out teasers and samples, and create momentum for your official launch day.

Use keywords to your advantage – when folks look for the best podcasts about farming, they search "best farming podcasts." If your podcast is called "The Farming Podcast," you're more likely to get found, as opposed to calling your show: "Steve Smith – the modern agrarian."

Start an email newsletter – one of our customers, Josh, sent an email to his list about his podcast and did 3x the listens in one day. For my show, I use MailChimp to send out an automated email every time we publish a new show (here's how).

Cross-promote on similar podcasts – find influential shows that have a similar audience to you, reach out and ask if they're interested in some sort of cross-promotion. Sometimes, this means doing an episode exchange (you post one of their sample episodes in your feed, and they do the same for you).

Engage in communities where your audience hangs out – don't spam, but building up a reputation Facebook Groups, on forums, and in comments, threads is a good strategy. Then, when appropriate, link out to specific shows (but only if they're related to the current topic of conversation!).

Create a video teaser – create a video teaser for your latest episode using Headliner, and post it Twitter, Facebook, LinkedIn, and YouTube. (Here's a good example).


Use direct mail – send your fans stickers, postcards, or a letter the old-fashioned way. Trust me, they'll tell people about it!


Go to events – spread the word in-person. Go to tradeshows, conferences, and meetups that relate to your audience. People will ask you, "so, what do you do?" That's a great time to tell folks about your show.
Published on February 2nd, 2020