Most podcasters want to know: "How do my podcast's stats compare to other shows?"
Every year, Jon and I share our podcast's stats. We do a show called Build your SaaS that's aimed at startup founders. We share our numbers here.
Last updated: May 7, 2020
Analytics on Transistor
Naturally, we use Transistor to host our podcast. 😉
On Transistor's "Analytics" page, you can see a variety of high-level stats. Here are the stats for our show: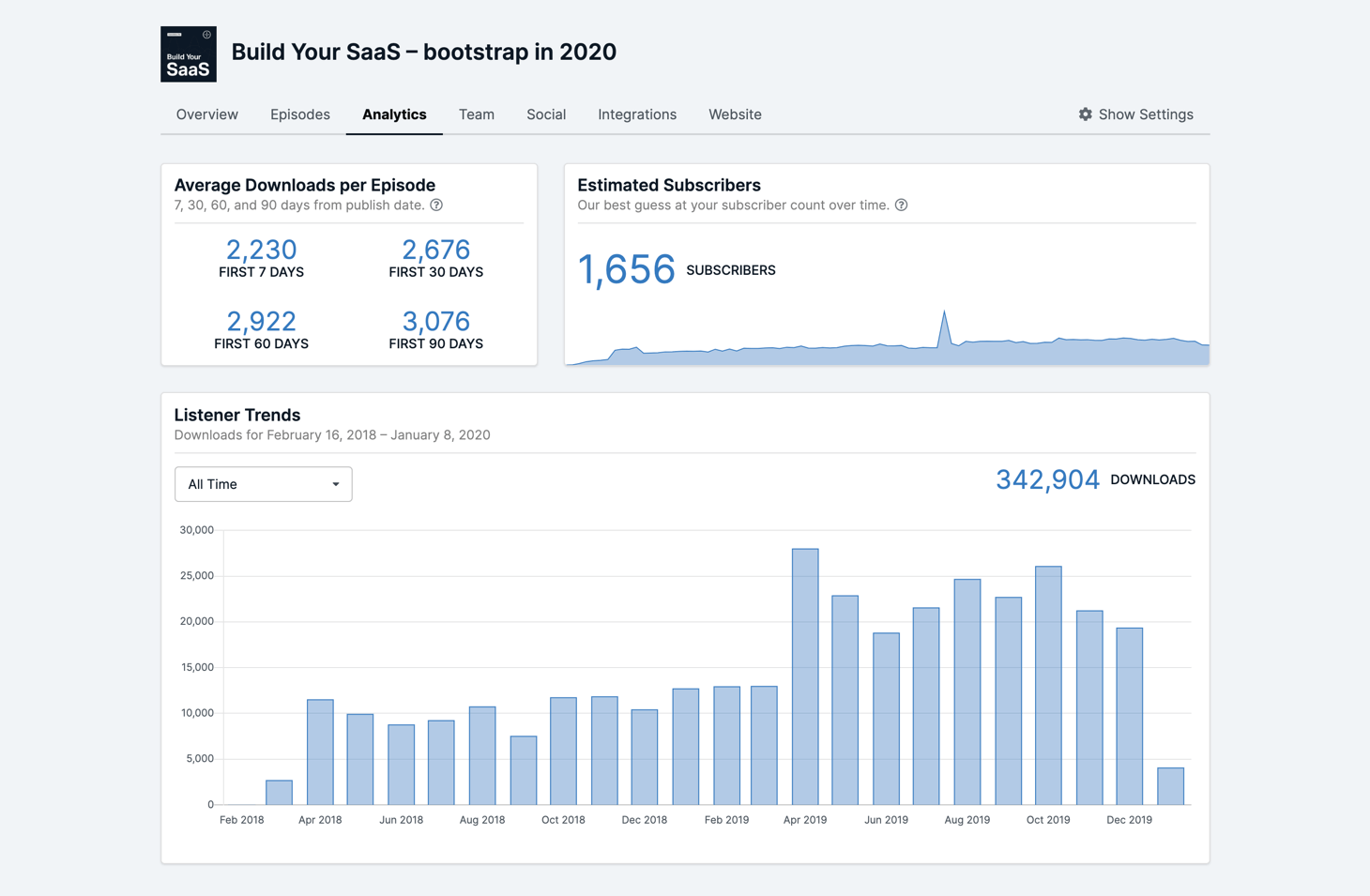 Average downloads per episode
First 7 days: 2,230 downloads

First 30 days: 2,676 downloads

First 60 days: 2,922 downloads

First 90 days: 3,076 downloads
How many people subscribe to our podcast?
There's really no way for a podcast host to know exactly how many people are subscribed to your show. Why? There are numerous podcast players (Apple Podcasts, Spotify, Pocket Casts). Most of them don't share subscriber numbers.
However, on Transistor, we estimate the number, based on how many downloads each episode gets in the first 24 hours. On Build your SaaS, we estimate that we have 1,656 regular subscribers.
Increase in monthly downloads
Why did we have a spike in downloads in April 2019? That was the month we released this episode with Taylor Otwell. Taylor has a big audience, and he brought us a lot of new listeners.
In fact, if you look at this download breakdown, you can see our most popular episodes came from interviews: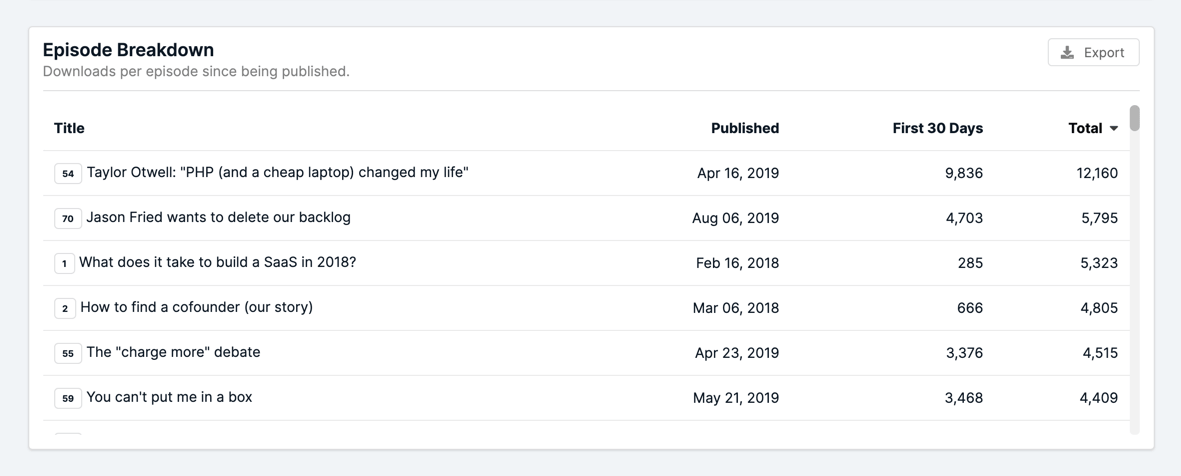 Our conversation with Jason Fried, founder of Basecamp, is our second most popular episode.
After that, our podcast's trailer has the most downloads.
Interestingly, "How to find a cofounder" is quite popular as well. My guess is folks are finding this episode when searching those keywords on Google, Apple, and Spotify.
What podcast listening apps do people use?
Listeners of Build your SaaS are largely folks in the tech industry. This is reflected in our Popular Player chart: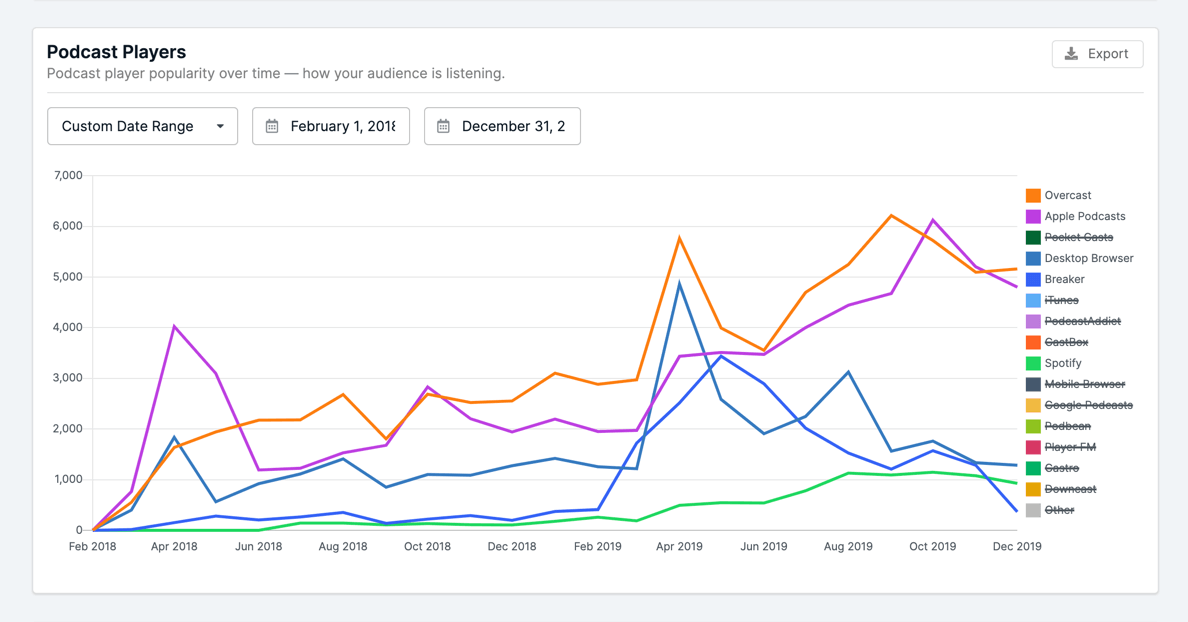 You can see the "Taylor Otwell" effect here as well: in April, there was a spike in people listening on Overcast, and on our web player (Desktop Browser). In August when we interviewed Jason Fired, we saw a bump in web player numbers as well.
Since Taylor's episode in April, we've seen an increase in downloads (and likely subscribers) on Overcast and Apple Podcasts.
Breakdown of podcast listens by app
We can also download this data as a CSV, and generate these percentages:
22% of listens are on Overcast

20% on Apple Podcasts (up from 16%)

15% on Pocket Casts (down from 21%)

10% from the web player


6% from Breaker (up from 2%)

6% from iTunes

3% PodcastAddict

3% Spotify (up from 1%)
Where do our listeners live?
Transistor provides a map, so you can visualize where your listeners live.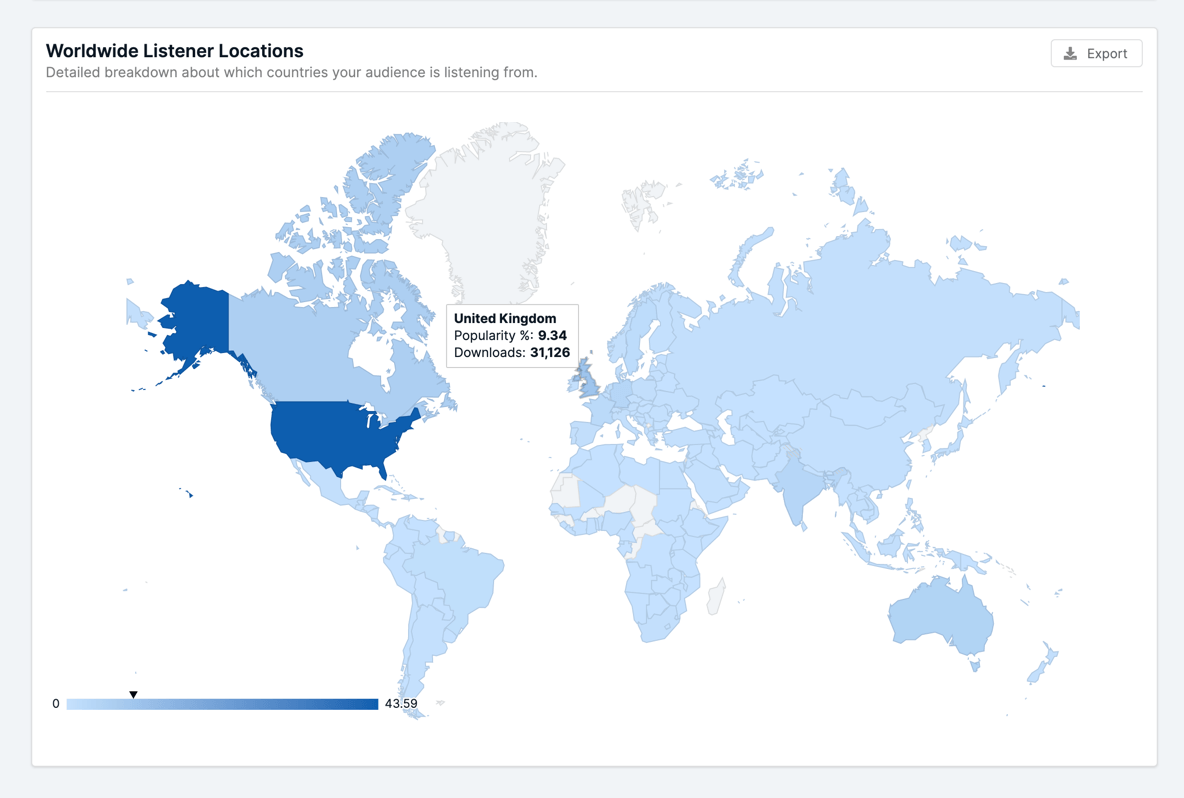 Here are the countries where our podcast listeners are from:
United States: 43.59%

United Kingdom: 9.34%

Canada: 5.83%

Australia: 4.77%

Germany: 4.1%

India: 3.58%

France: 2.66%

Sweden: 1.85%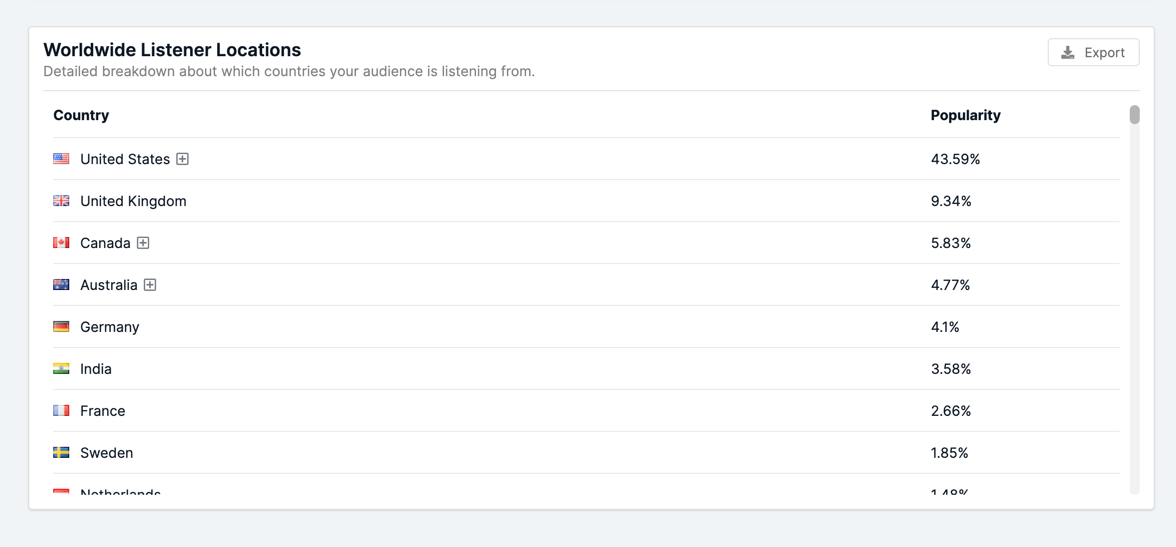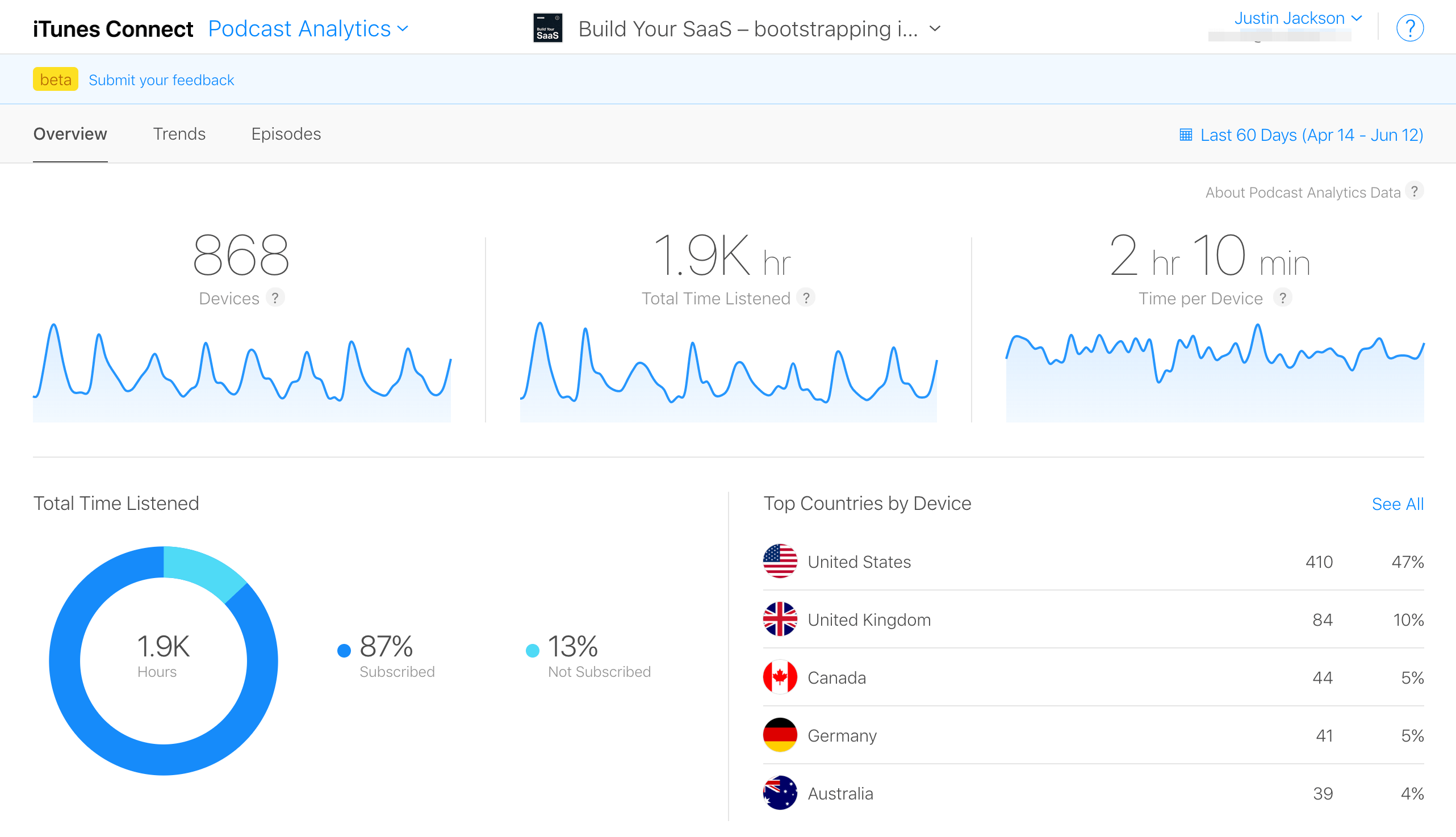 Apple's currently tracking about 868 devices.
What percentage of each podcast episode are people listening to?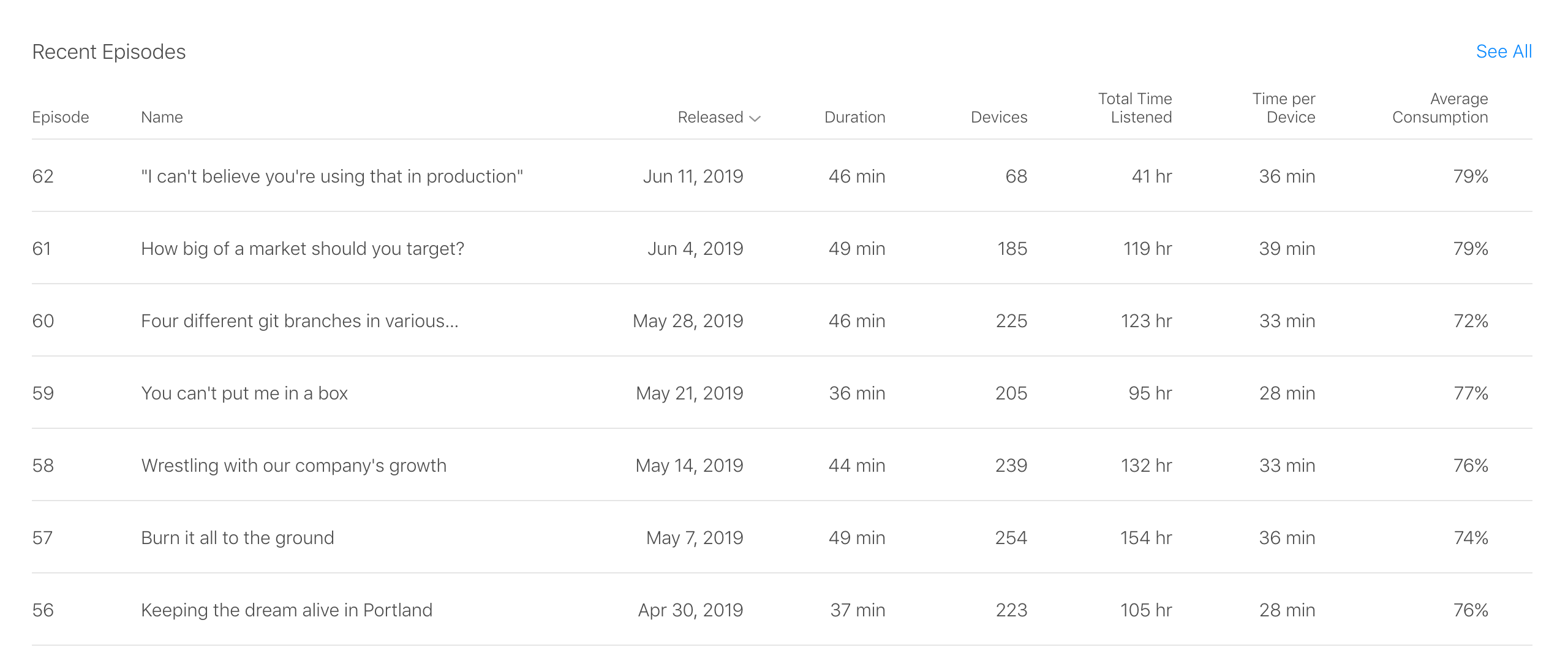 A few observations:
Our audience doesn't care much about the podcast industry 😜 (EP 35 has 56%, EP38 has 59%)

Episodes that are shorter than an hour do better (30 - 45 mins seems to be our sweet spot)

Folks seem to like the episodes where Jon and I are openly sharing about what we're doing, why we're doing it, what we're struggling with, etc...
Spotify's podcast analytics
We nearly doubled the number of listeners on Spotify (we went from 744 to 1,443):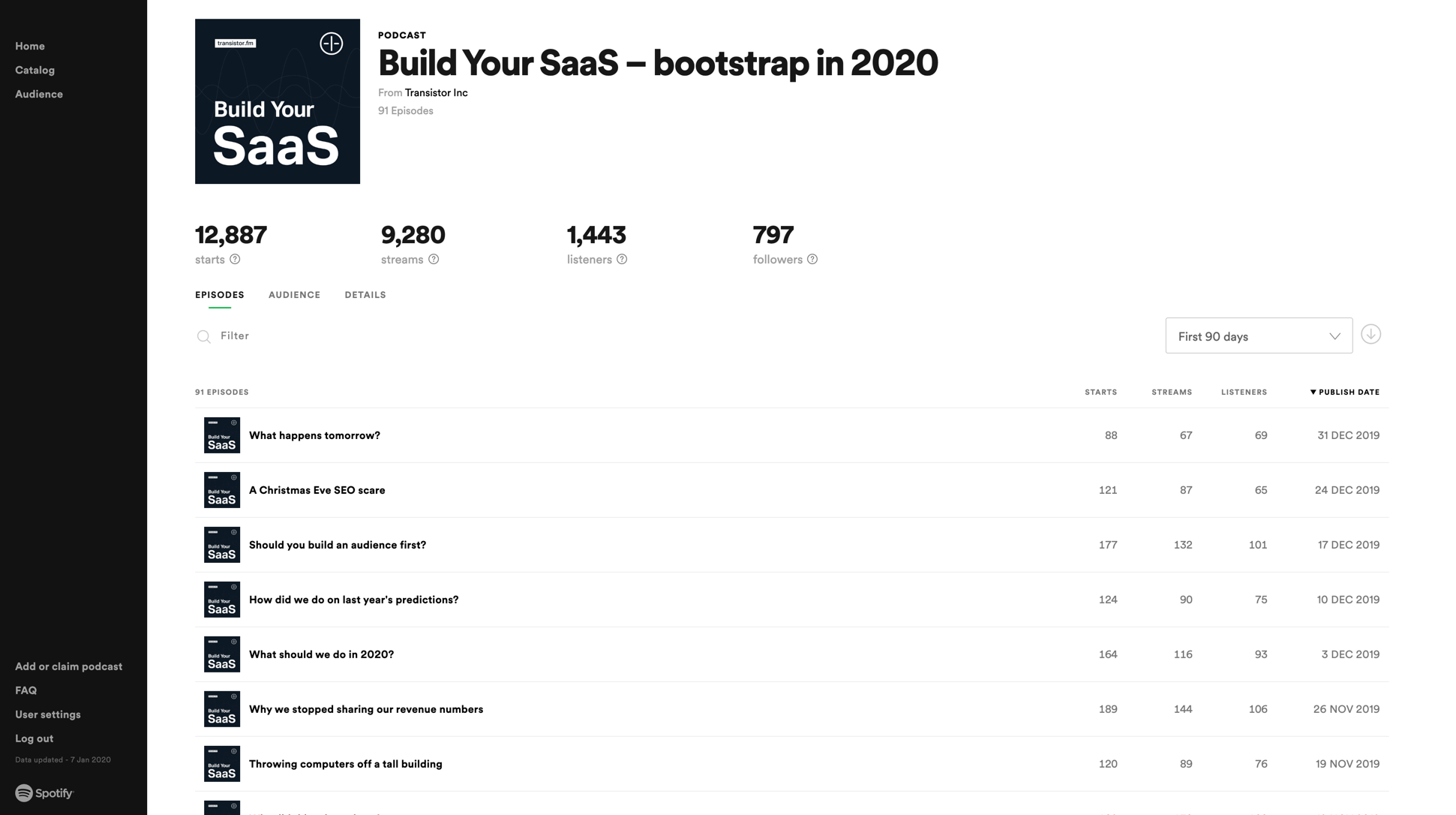 We also increased the number of streams on Spotify (9,280, up from 2,564).
We had a spike of new listeners on April 17 (there's the Taylor Otwell effect again!).

Since last year, we've gained a number of female listeners:

Female: 39% (up from 6%)

Male: 57%

The age distribution of our listeners on Spotify has changed quite a bit as well (we had a significant increase in listeners aged 18-22).

Google Podcasts' analytics
In May 2020, Google Podcasts released its dashboard for podcasters: podcastsmanager.google.com.
Once you've verified your show's RSS feed, you'll be able to see how many people listen to your show on Google Podcasts.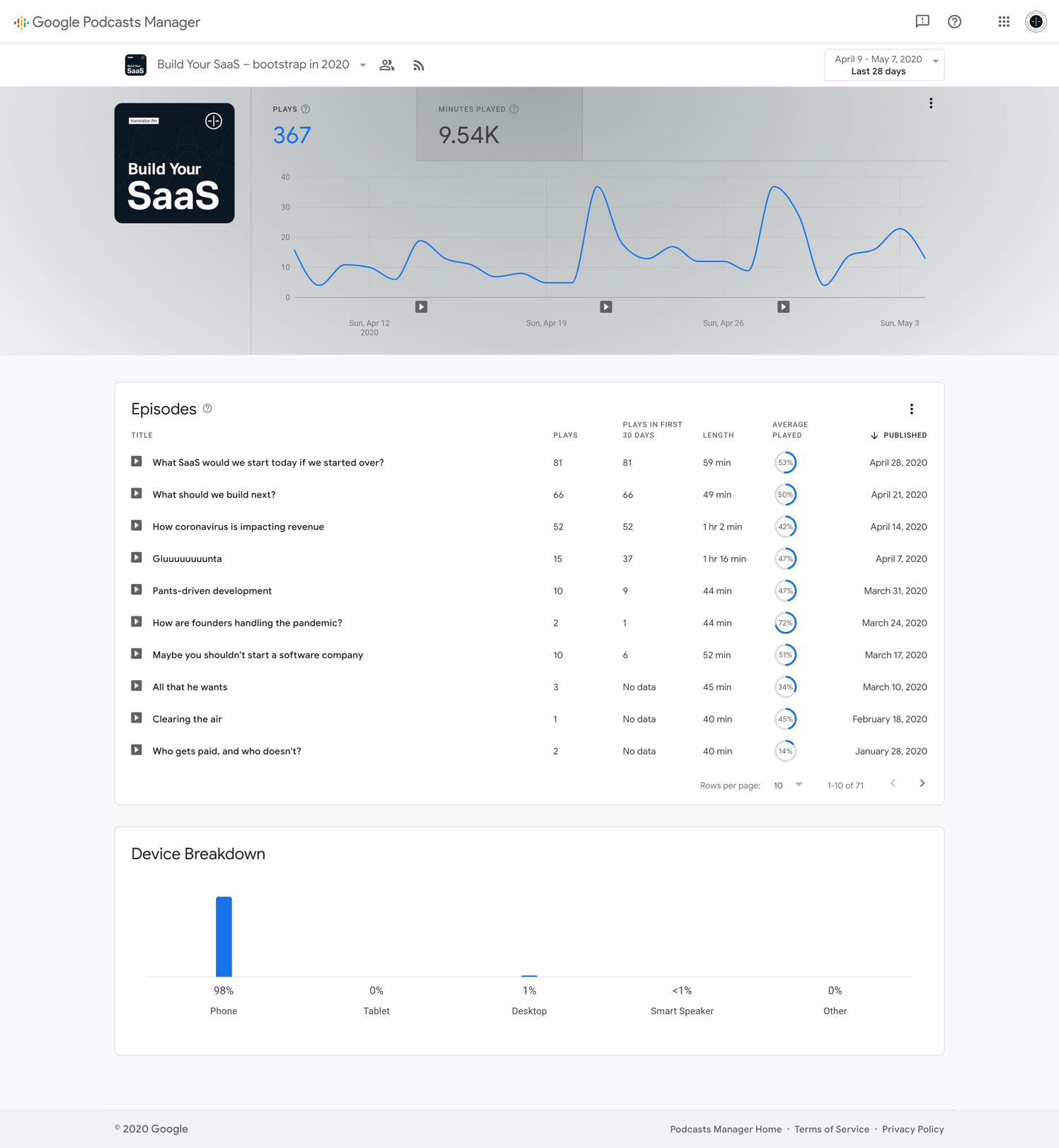 They'll show you:
Number of plays

Average % of an episode played

And plays (and minutes listened) over time
Chartable
You can also use third-party analytics apps, like Chartable.

They offer the ability to track your chart performance on Apple Podcasts and Spotify: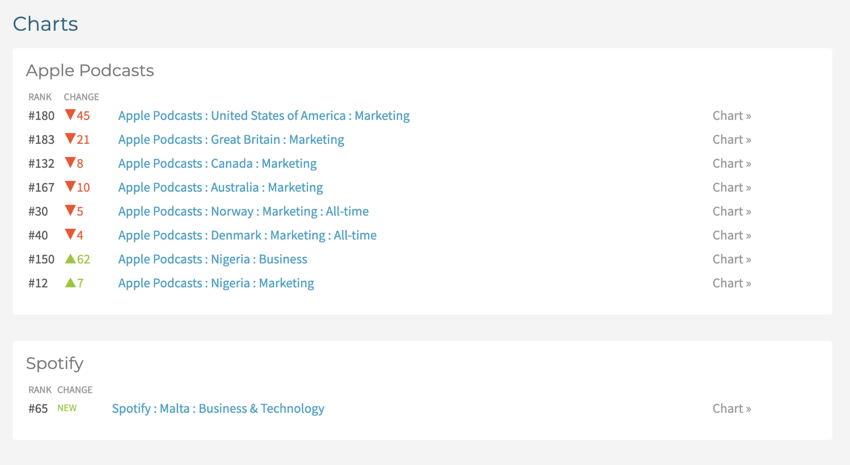 ---
Want to start your own podcast?
To start your own podcast, you basically need three things:
A microphone

Software to record and edit your show

A place to host your audio files, and generate your RSS feed
Published on May 7th, 2020