Our podcast hosting features are designed to help you build & grow your audience.
Host multiple podcasts on one account
Transistor allows you to create, import, and host unlimited podcasts on your account, for one monthly price.
Switch to Transistor and save money
Most hosting companies charge you a lot of money for hosting more than one podcast.
When you switch to Transistor, you can host multiple podcasts and pay only one monthly price.
Every time you create a new podcast on Transistor you'll get:
A unique RSS feed

Advanced analytics

A basic webpage for your podcast

The ability to invite other admins to manage that show
What can you do with multiple podcasts?
Podcasters who host multiple shows can experiment and try out different formats:
Making more shows is one of the best ways to increase the number of listeners you get each month.

Having multiple shows allows you to test out new concepts, and choose the podcast theme (or format) that resonates the most.

Create multiple formats for different listeners! Some folks like 2-hours interviews, others like 30-minute commuter shows, and most folks will check out a 5-minute highlight episode.
Invite multiple collaborators
Each podcast you host on Transistor can have its own team of users. 
There are three types of users on Transistor:
Each paying account has one Owner. They control the billing and subscription settings, credit card information, and can cancel an account.

Admins can edit show settings, manage episodes, view analytics, and manage team members. You can have multiples of these on each podcast!

Members can add or edit episodes, and view analytics, but are not allowed to delete episodes or manage team members. Send an invite and they'll receive an email to set their own account password. Again, you can have multiple members on each podcast you host.
This means you can invite additional members to collaborate on your show. 
With Transistor you can create multiple podcasts, and invite individual users to work on each show.
Podcast analytics software
Transistor is consistently rated as one of the best podcast analytics tools. It gives you detailed stats for your podcast like monthly listens, total listens per episode, average downloads per episode, most popular listening apps, and which devices your listeners are using.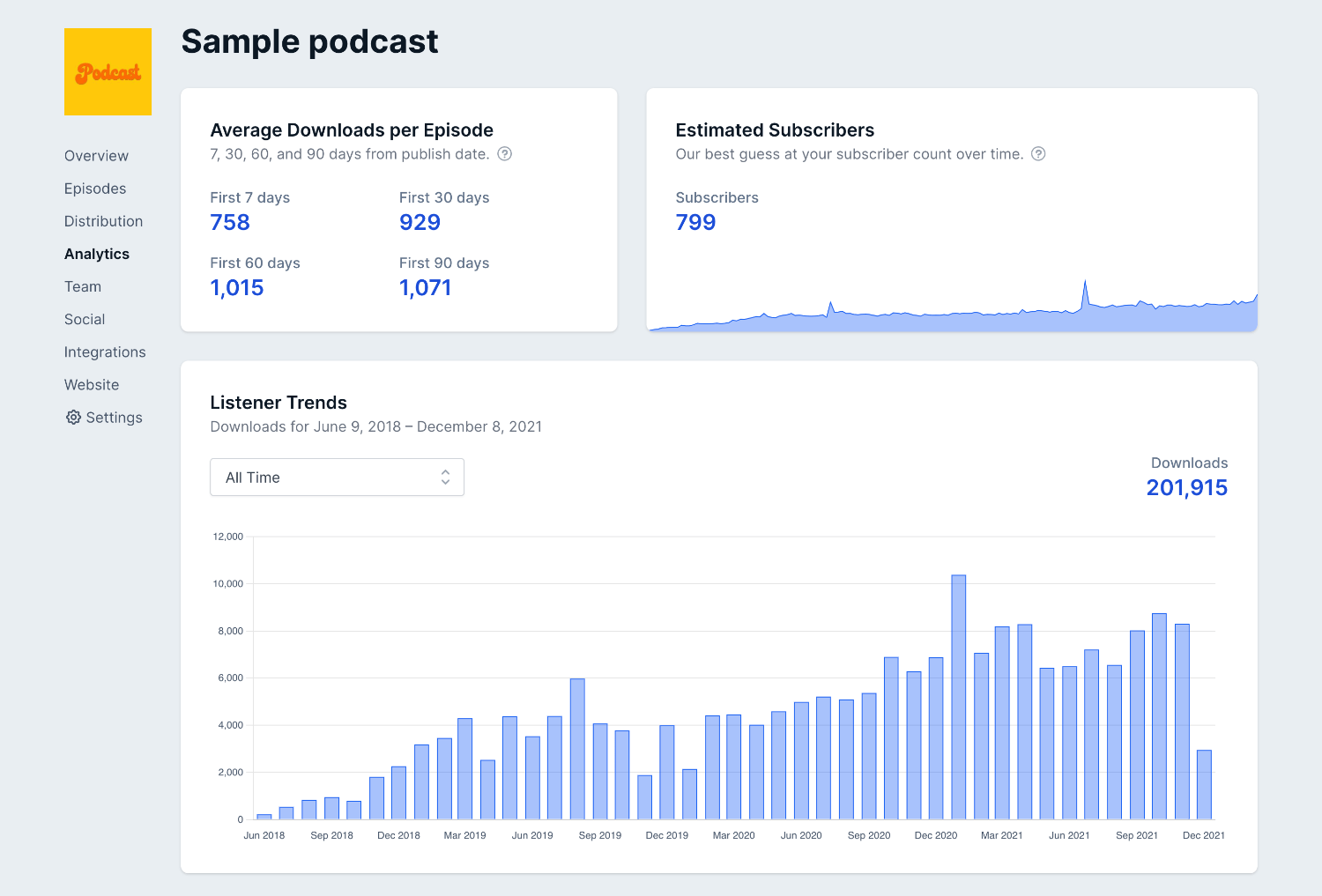 Overall analytics for your podcast
On Transistor's "Analytics" page, we provide a variety of high-level stats:
Average downloads per episode: this shows how well your episodes are doing 7, 30, 60, and 90 days after being published. Often, potential advertisers especially want to see these numbers.

The number of people who subscribe to your podcast: subscriber counts are notoriously difficult to measure because podcasting is built on top of RSS (an open platform that doesn't track individuals). However, we give you an estimate based on the average of the first 24 hours of downloads of your last 3 episodes to calculate an estimated subscriber count. The graph is an estimated count over time.

Listener trends: see your download history over time. This allows you to view the number of listens by year, month, day, or in the last 24 hours.
Listener breakdown per episode
Want to sort your podcast's episodes by most popular? You can do that with our Episode Breakdown table: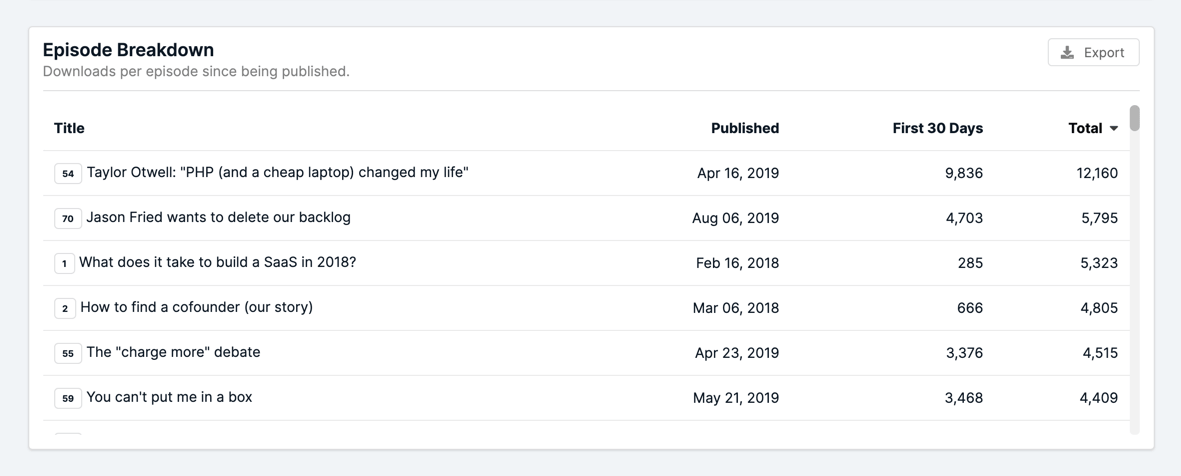 You can also export this table as a CSV file, and open it in Microsoft Excel, Google Sheets, or Apple Numbers.
Compare episode stats
Now you can view detailed analytics for each episode you publish on Transistor, and see how it compares to previous episodes.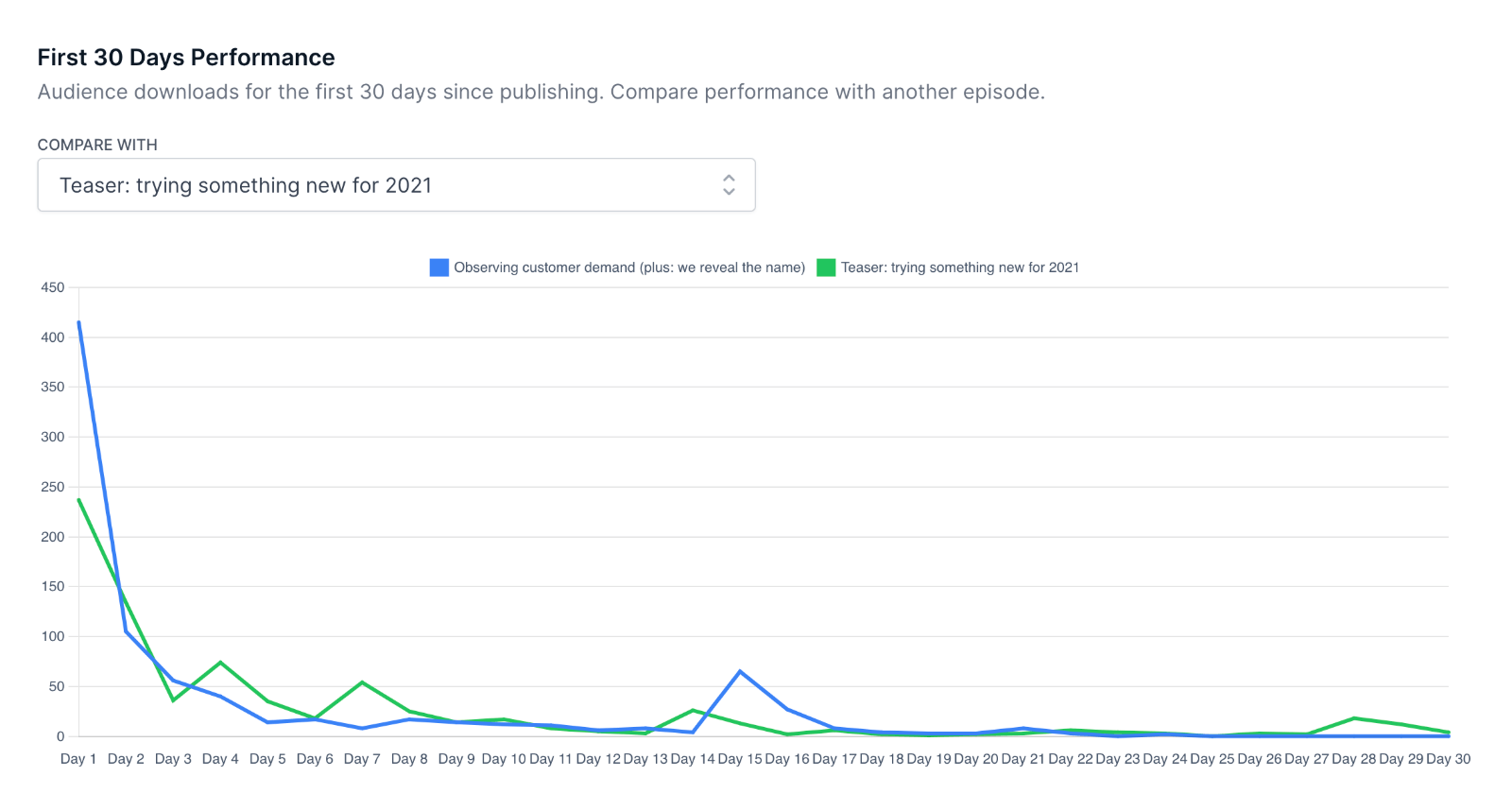 See which podcast apps people use to listen to your show
How is your audience is listening? Are they using Apple Podcasts, Spotify, or Google Podcasts? You can see these trends over time in our Podcast Player chart: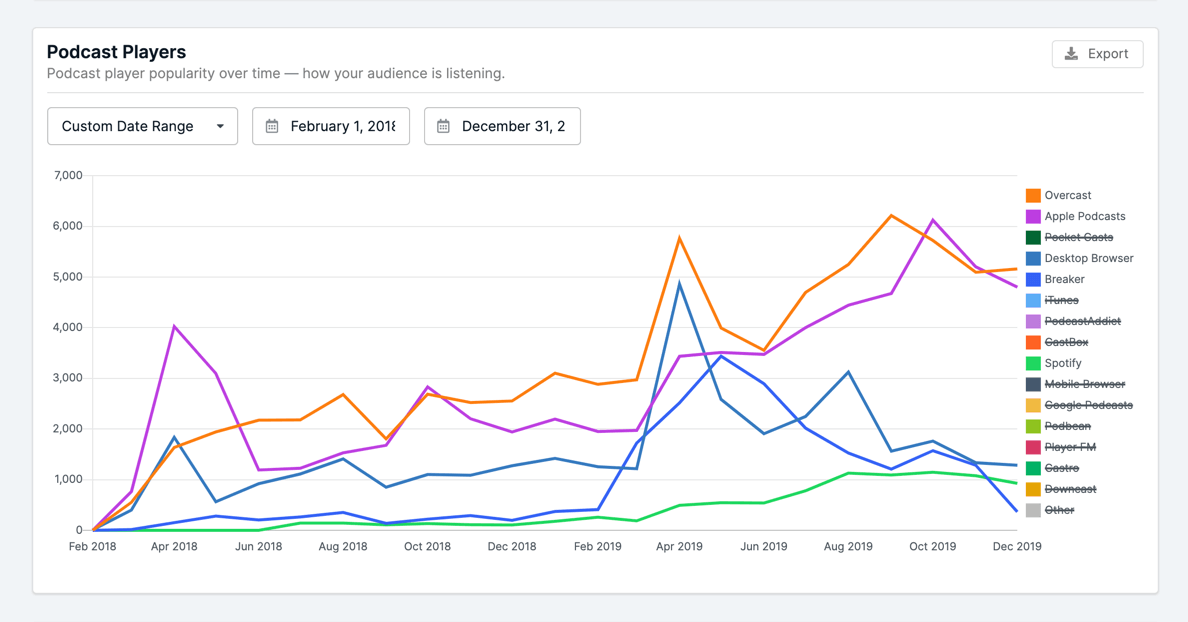 You can select the apps you want to see on the chart and visualize where you're getting more listeners. 
You can also export this data as a CSV file.
See listener devices and operating system
To find out how many of your podcast listeners use desktop, mobile, smartwatch, or smart speaker, you can now look at your Transistor analytics.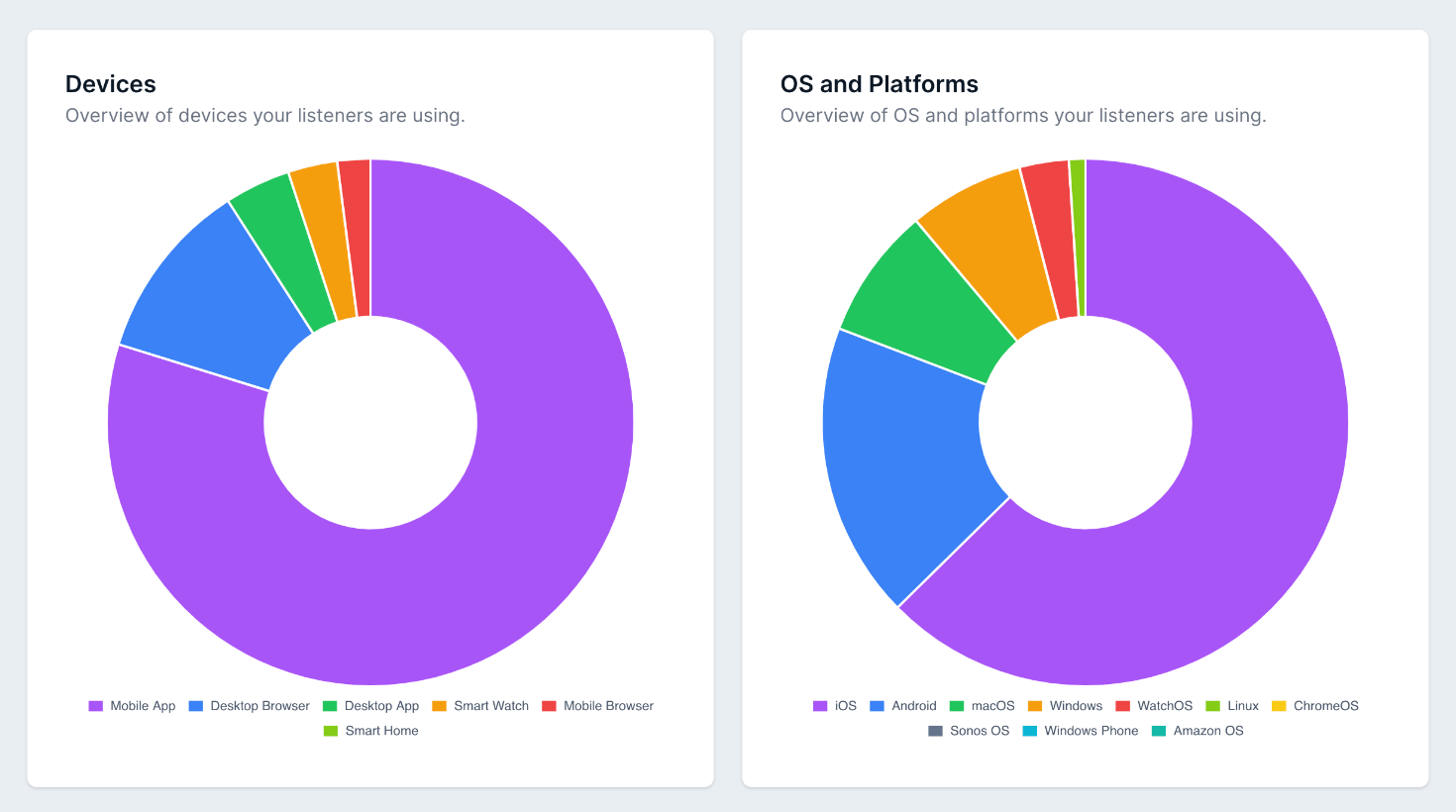 You can also see if podcast listeners are using iPhone, Android, Windows, Apple Watch, Amazon Alexa, Google Home, and Sonos.
The podcast listener map
Transistor provides a map, so you can see which countries your listeners are from.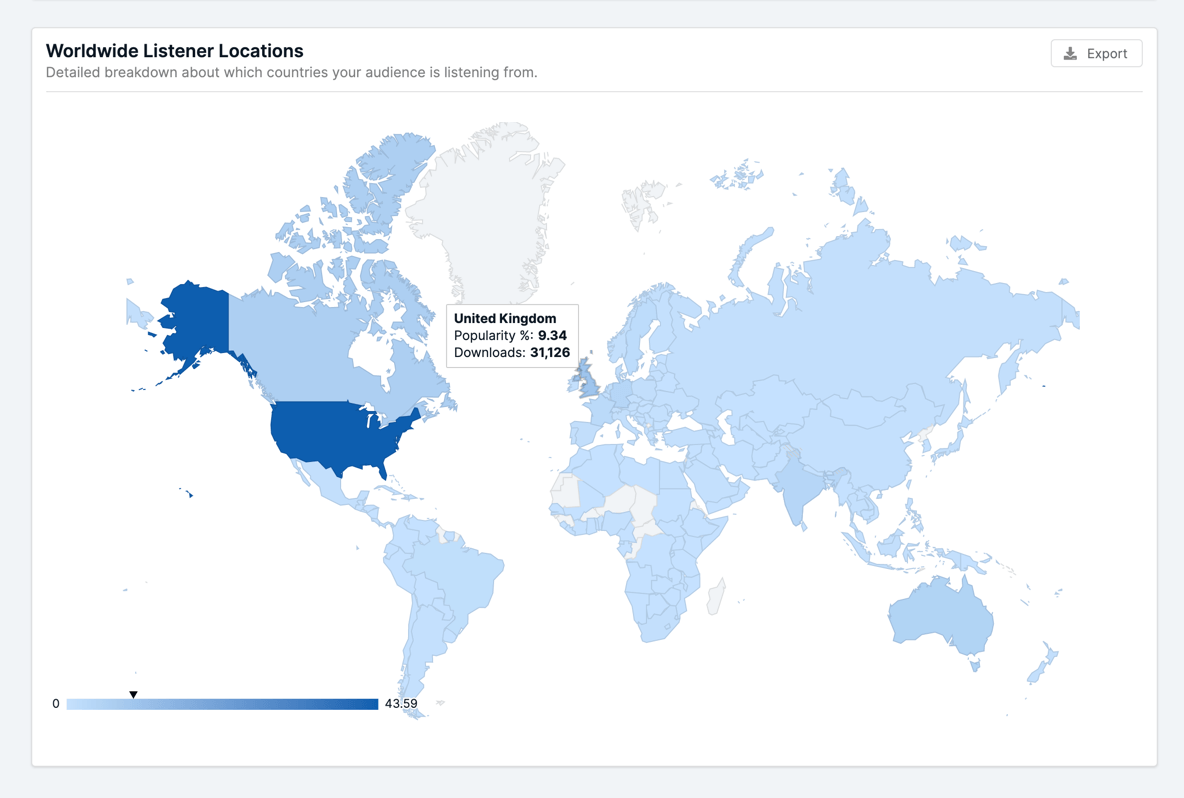 Even more helpful, you can see a list of what percentage of listeners live in each country.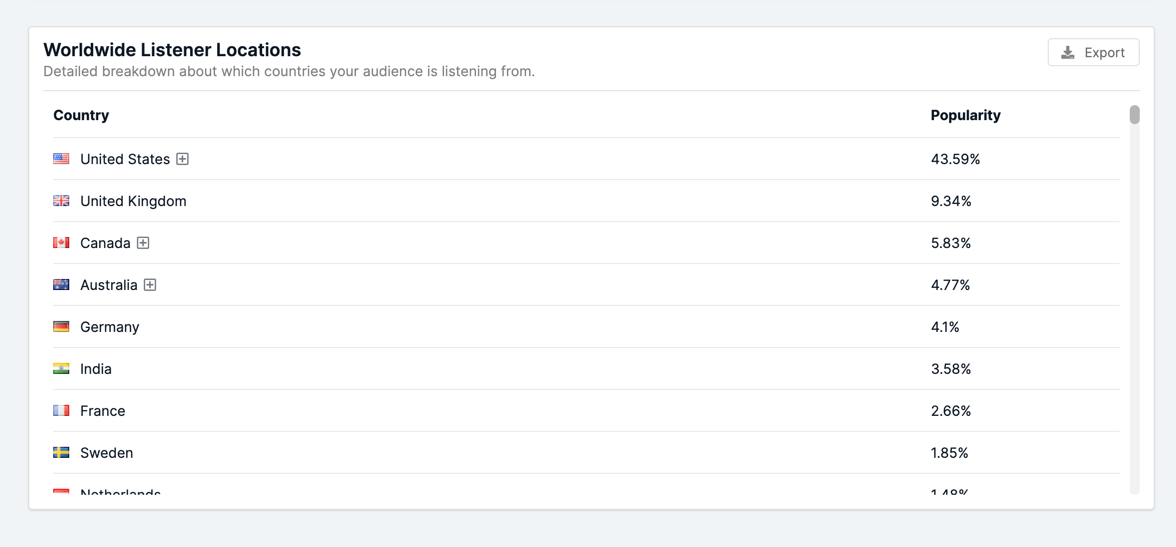 In the USA, Canada, and Australia, you also get state/province breakdowns.
Video overview of Transistor analytics
Embed your podcast audio anywhere
You can use our podcast player to embed your episodes on:
Your website (WordPress, Squarespace, Wix)

A landing page (Carrd, Unbounce, Leadpages)

Or, in a tweet
Distribute your show
Distribute your show on Apple Podcasts, Spotify, Overcast, Pocket Casts, Stitcher, Google Play, Castro, and on social media.
A website for your podcast
Transistor can generate a website for your podcast. It automatically updates every time you add a new episode!
Promote your podcast
You can use Transistor to get more listeners!
Easily import your show
Moving to Transistor from a different podcast host? Just enter your current RSS feed, and we'll import your MP3s and show notes for you.
You can import your old shows to Transistor from any of the major podcast hosts (Simplecast, Anchor, Podbean, Blubrry, Soundcloud, Libsyn).