Distribute your podcast everywhere
Easily submit your podcast to Spotify, Apple, and other podcast players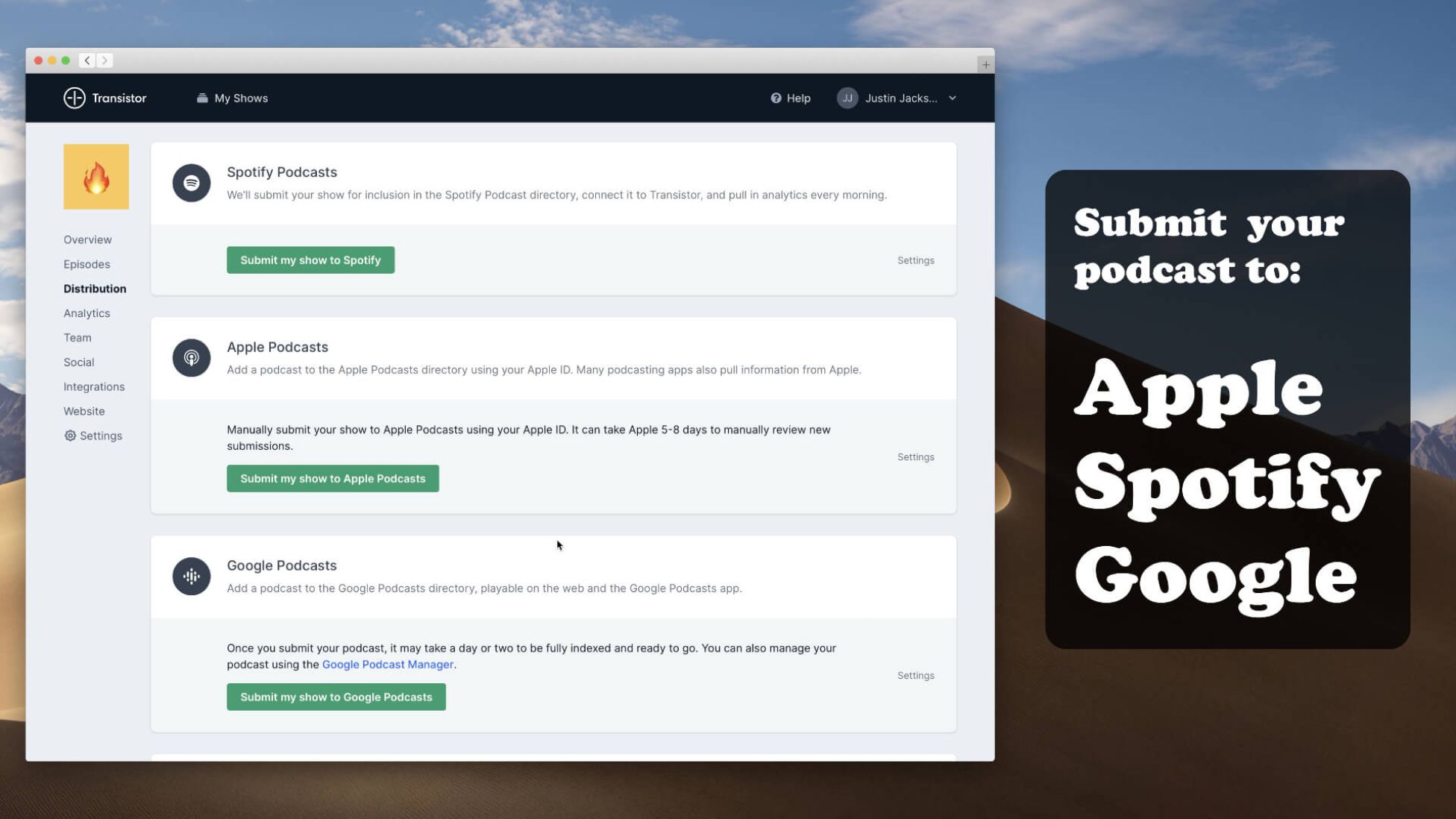 Transistor makes it super easy to submit your podcast to Apple Podcasts, Spotify, and other major podcast players, apps, and indexes.
After submission, your new episodes will automatically appear on all the major platforms (including podcast search engines).
How it works
TLDR: Once you publish your episode, we'll distribute your audio to all your podcast listeners.
1

Upload your audio

and publish your podcast episode

2

Transistor

will update your podcast's RSS feed

3

Podcasting apps & aggregators

detect a new episode in your feed and download it from Transistor's servers
Submit your podcast everywhere
It just takes one click to submit your podcast to these platforms.
Podcast Directories
Spotify Podcasts
We'll submit your show for inclusion in the Spotify Podcast directory, connect it to Transistor, and pull in analytics every morning.
Apple Podcasts
Add a podcast to the Apple Podcasts directory using your Apple ID. Many podcasting apps also pull information from Apple.
Google Podcasts
Add a podcast to the Google Podcasts directory, playable on the web, and the Google Podcasts app. Once you submit your podcast, it may take a day or two to be fully indexed and ready to go. You can also manage your podcast using the Google Podcast Manager.
Player FM
Player FM is a leading, multi-platform podcast app that lets you play shows at your convenience, even when you're offline.
Podcast Addict
Podcast Addict is the most popular Android podcasting app. You can quickly submit your podcast to be included.
Search Indexes
The Podcast Index
The Podcast Index is an open project to preserve podcasting as a platform for free speech. An alternative to Apple's podcast directory.
Listen Notes
Listen Notes is a popular podcast search engine for finding and commenting on podcasts.