How to create a paid private podcast
To charge a subscription for a private podcast, you'll need to do three things:
Generate a separate private RSS feed for each subscriber.

Charge subscribers a membership fee (usually on a monthly basis).

Automatically onboard subscribers and help them subscribe in Apple Podcasts, Google Podcasts, etc.
How do paid private podcasts work?
Podcasters like Sam Harris, Ben Thompson, and John Gruber are earning revenue by selling access to their private podcast. They've created their own custom-coded solution that allows people to pay a subscription, and then get access to a private feed that they can add to their podcast player.
However, using a solution like Transistor enables you to offer a paid private podcast, without any custom coding.
How to create a private podcast for subscribers
First, click "Add a show" and then choose "Create private podcast" (you'll need a Professional account on Transistor to do this).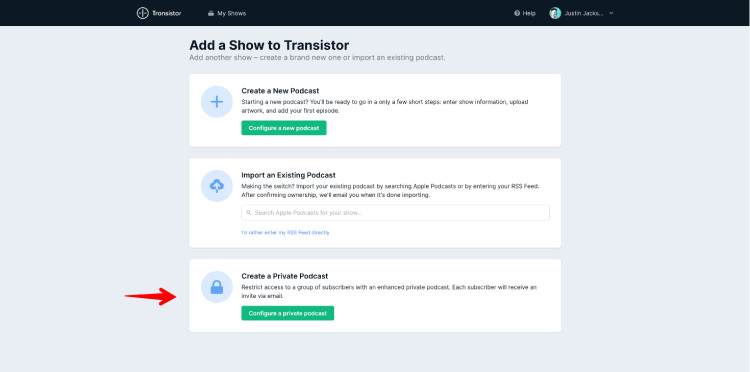 Next, you'll upload the audio for your episode from your phone or computer. Transistor will turn it into a podcast episode, and publish it as a private podcast.
Every time you add a subscriber, Transistor will generate a unique RSS feed just for them. If they cancel their membership, you can remove them as a subscriber so they no longer have access.
How to charge subscribers for a private podcast
Once you've created a private podcast, you'll get an invite link you can share with subscribers once they've paid. Here is a sample invite link you can try.
Using PayPal
Many private podcasters simply sell access using PayPal. Once the purchase has been made, they auto-redirect them to the private podcast's invite link.
Log in to PayPal and click "Profile" in the menu.

Next, click "My Selling Tools." Now you'll see all your profile settings.

Find "Website Preferences" and click "Update."

Turn on "Auto Return" and paste in your private podcast's invite link.

Click "Save." Now, anyone purchasing your private podcast on PayPal will automatically see the invite page after they pay.
Use Zapier and accept payments from Stripe, Podia, Memberful
You can use Zapier + Transistor to create automations like this:
"Automatically add a private subscriber when they pay on Podia."

"Automatically remove a private subscriber when they cancel their membership."
In this example, the Zapier automation creates a private podcast subscriber on Transistor every time a new member signs up for a subscription on Memberful.
Help subscribers add the private podcast to their listening app
Transistor makes it easy for subscribers to add their private podcast feed to listening apps like Apple Podcasts, Overcast, Pocket Casts, and Podcast Addict. (Much easier than adding a private podcast feed from Patreon).
New subscribers will automatically receive a welcome email: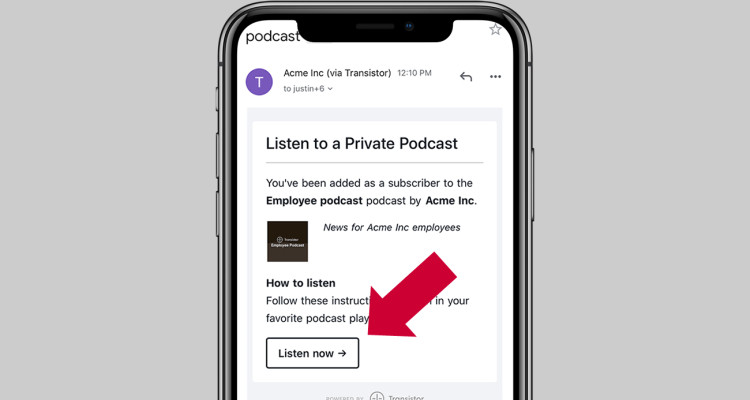 They'll then be able to add the feed to their favorite podcast player with one click: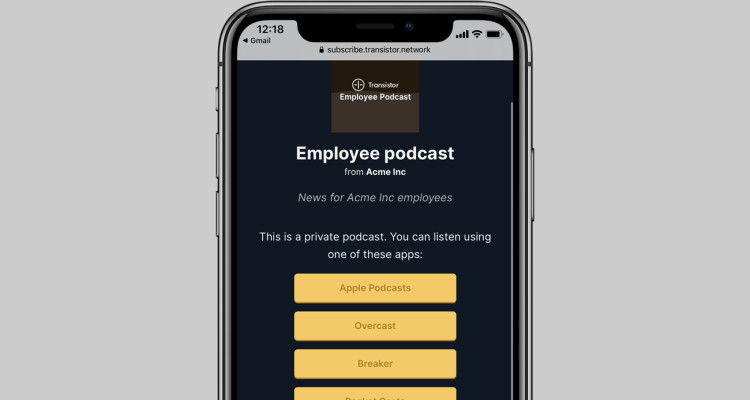 Once they're subscribed, they will automatically receive new episodes when they are published.
Notify subscribers of new episodes by email
We noticed that many private subscribers had difficulty adding the private podcast feed to a player like Apple Podcasts, Podcast Addict, Google Podcasts. Plus, some popular players (like Spotify) don't support private podcast feeds.
Transistor now has a feature that notifies subscribers by email when there's a new episode. They can also listen to the episode on the web if they wish.
The web browser view also allows subscribers to browse episodes, and listen to other unplayed episodes.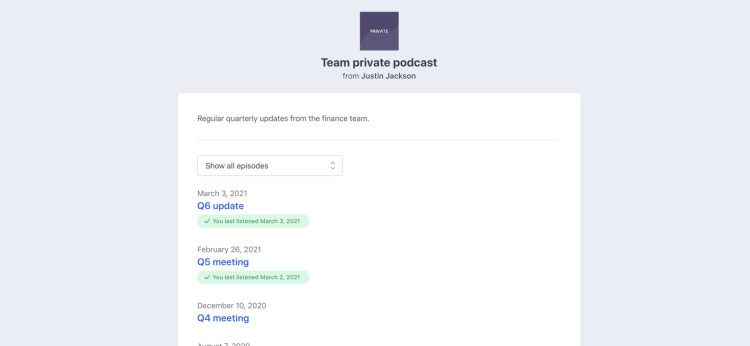 How much money can you make from a private podcast?
I've been running a membership site since 2013. On average, it earns $25,000 per year. Overall, it's earned nearly $190,000 in revenue: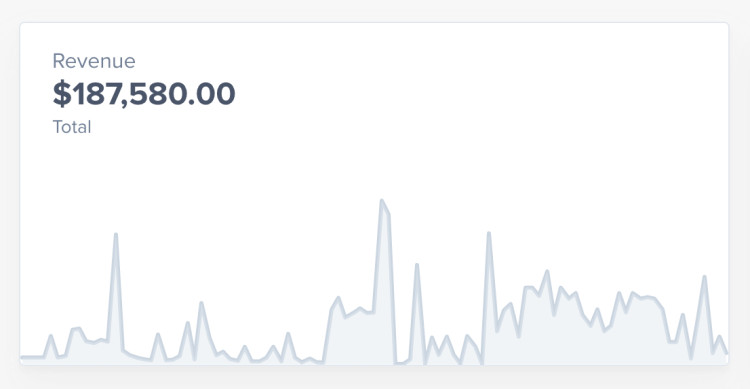 You can achieve similar results, but it will likely take years to build up enough momentum.
Start a paid private podcast
Paid podcasts are perfect for training programs, membership sites, and audiobooks.