Apple doesn't actually host your podcast audio. Here's how to submit your podcast to Apple:
Step 1: Create a new Apple ID
To use Apple's Podcast Connect, you'll need an Apple ID. Do not use your personal Apple account!
It's far better to create a new Apple ID that you'll use primarily for podcasting. This is especially important if you're creating a podcast for work. This is the account you'll be using to access Apple's podcast portal (Podcast Connect) and to see Apple's podcast analytics.
If you create a new Apple ID, make sure you verify it! You can do this by logging into the iTunes Store (on your phone or desktop) before you sign in to Podcasts Connect.
(I wish I'd learned this earlier)
Step 2: Get a podcast hosting account
Podcast hosting is similar to website hosting. When you need a website, you use a service like Wix, Squarespace, or WordPress to host your website files.
You'll upload your audio files to a hosting service (like Transistor). You'll be able to edit show details here, add cover art, create episodes, and generate an RSS feed for your podcast. It's the RSS feed that you'll be submitting to Apple.
Step 3: Publish at least one episode
You'll need at least one episode recorded (and uploaded to your podcast host) before you submit to the Apple Podcasts directory.
Here's a tutorial for recording, editing, and uploading podcast episodes:
Step 4: Check your show settings
You'll want to make sure your podcast is configured properly. Specifically:
Make sure you've chosen at least one category (up to 3 max).

Make sure you've uploaded your show's artwork. Apple requires artwork and recommends an image of 3000x3000 pixels. However, the file size can't be larger than 512KB.

You'll also need to have at least one episode published for Apple to recognize your feed.
To validate your podcast feed, you use the Podbase feed validator.
Step 5: Log in to Apple Podcast Connect
Once you have your new Apple ID, head over to Apple's Podcast Connect.
When you log in, you'll see a screen that looks like this:

Step 6: Find your podcast's RSS feed URL
Now, you'll need to log into your podcast hosting account and get your RSS feed URL.
An RSS feed URL looks like this:
https://feeds.transistor.fm/your-show
If you're using Transistor, you'll find it here: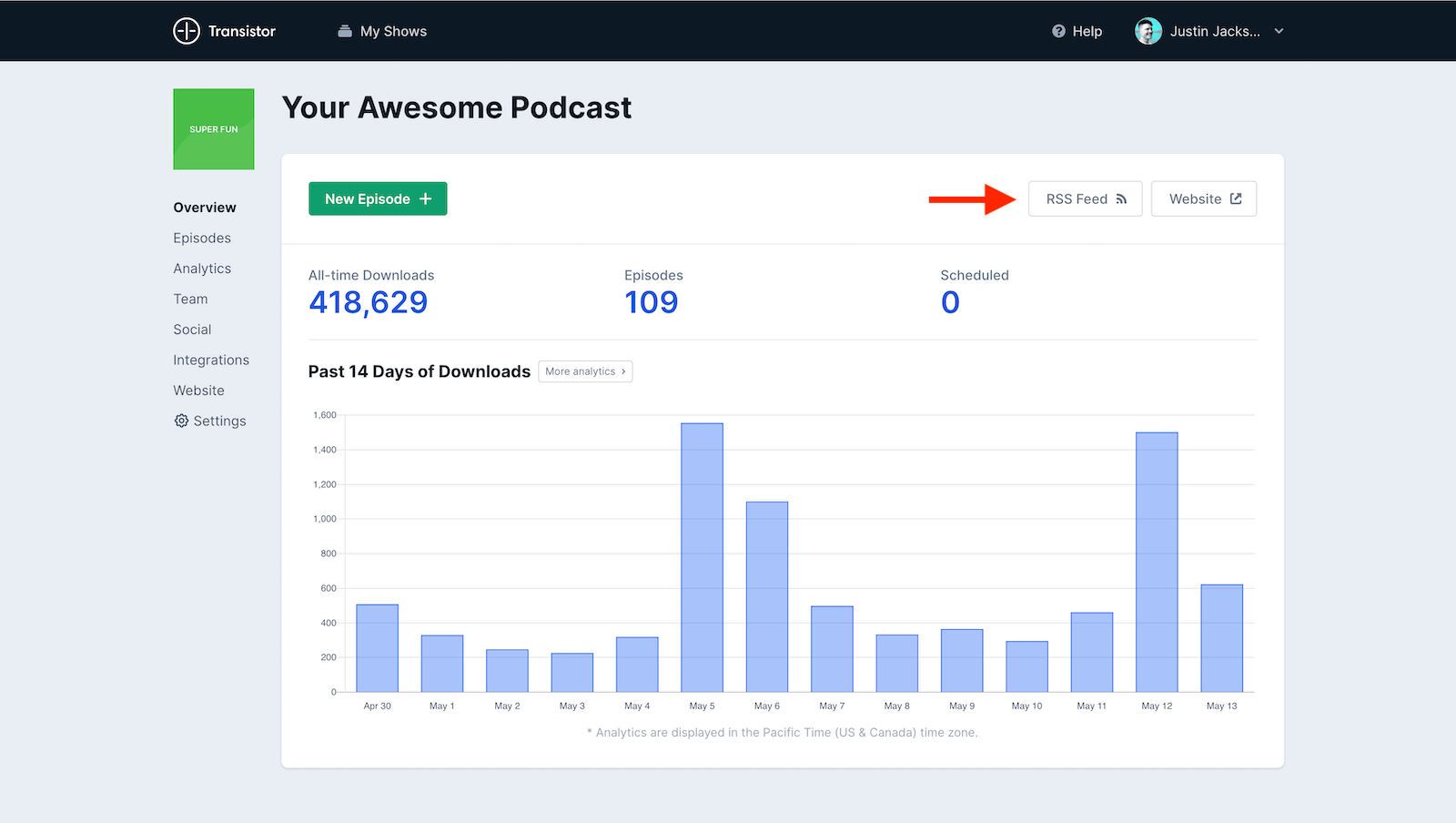 Step 7: Paste your RSS feed URL into Podcast Connect
Copy your podcast's RSS feed URL.
Go back to Apple's Podcast Connect. Paste in your URL, and click "Validate:"

Step 8: Review your Apple Podcast submission
Apple will give you a preview of your podcast's information, including any episodes you have in the feed.
If everything looks correct, click "Submit."
It used to take 24-48 hours for Apple to manually validate your podcast feed.
Now, in 2020, Apple typically takes 5-8 days to review your submission.
However, this only needs to occur once!
Once you've been accepted by Apple, Spotify, etc... your episodes will automatically appear in those directories when you publish new episodes.
Step 9: Start promoting your show!
Once Apple approves your podcast, you can share the show with others, and add an Apple Podcast badge on your website.
If you're using Transistor for your podcast website, we'll automatically add a "Listen on Apple Podcasts" button to your subscription page: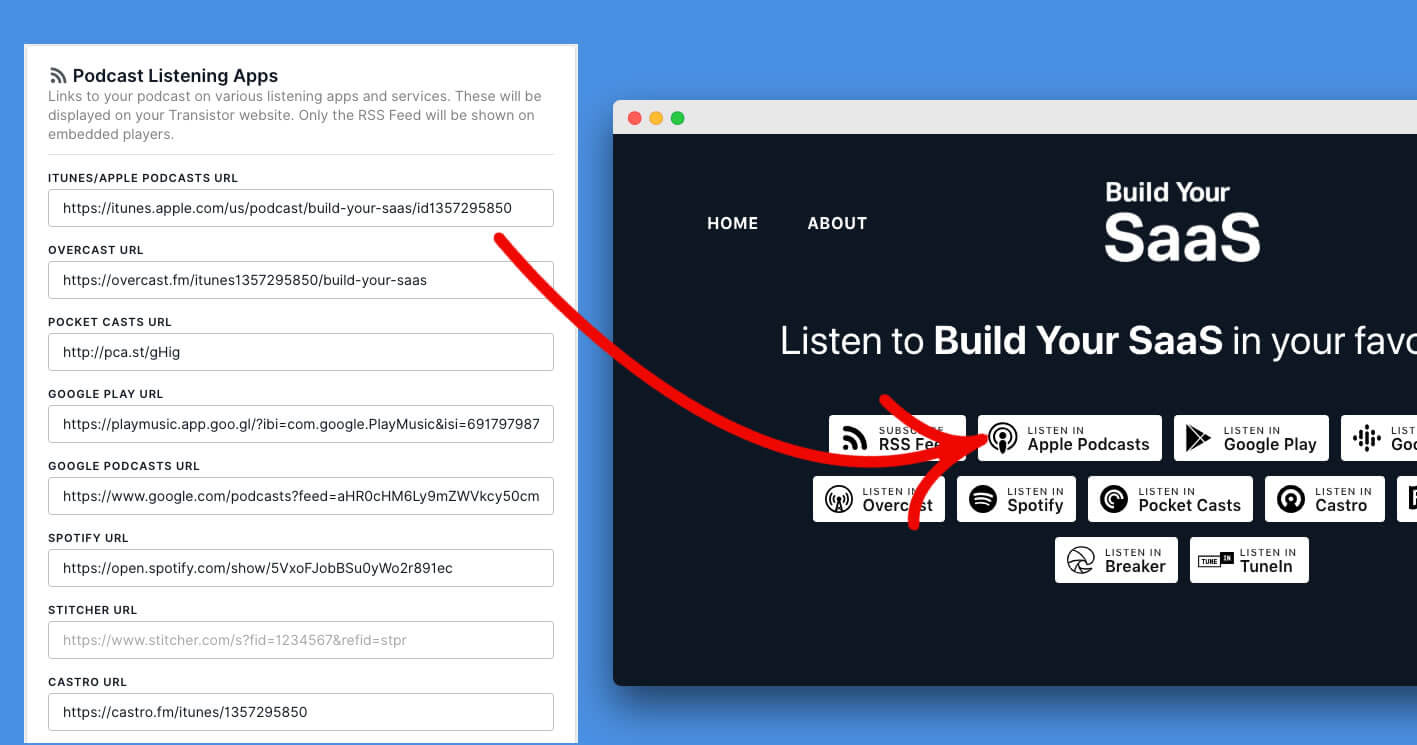 If you want more information about promoting your show, I've written a guide here.
Why do I need to submit my podcast to Apple?
Apple's podcast directory is important, for three reasons:
It's featured prominently in the Apple Podcasts app and is shipped with every version of the iPhone (more than 700 million iPhones are actively in use right now).

It's featured prominently in the desktop version of iTunes as well (not as important, but still significant).

Nearly every podcast directory (Podchaser, Overcast, Pocket Casts, Breaker, Castro, Listen Notes ) uses Apple's directory as their "master copy." If your show is on Apple Podcasts, it should automatically show up on most of the other directories. (You can still submit your show manually to other platforms. I explain how here).
How do I upload my podcast to Apple Podcasts?
Still confused?
Remember: you don't upload your podcast to iTunes and Apple Podcasts!
You'll need a podcast hosting company to host your MP3 files, edit your show settings, and to generate a valid podcast feed for you.
Need help? Transistor customers get priority customer support. Sign up today, and we'll walk you through the whole process.
Published on October 7th, 2020