How to start a branded podcast
Starting a podcast for a business is one of the best ways I've found for earning trust with potential customers, developing a reputation in an industry, and fostering better communication with my team.
My business partner and I started a podcast in 2018. Since then, the podcast has brought us customers, frequently generates word-of-mouth for our company, has helped us find employees, and has helped us make industry connections that ended up being incredibly valuable. And best of all, it's helped us discuss real business issues, as a company, in a transparent way.
How to start a podcast for your business in 2022
The problem with most branded podcasts? They're boring. Listeners want to be entertained, inspired, and educated. If you want to create audio that people listen to, you have to make it compelling!
Podcasting 101: how a professional podcast gets made
First, you'll need to understand the basics of recording, editing, and publishing a podcast.
I've made this tutorial video, which covers everything you'll need to know:
Additionally, you can read this guide, which covers recording equipment, editing software, and podcast hosting.
Generally, here's what I recommend for businesses:
Have a dedicated podcasting room, studio, or station, in your office.

If you can, equip it with lighting, a video camera, soundproofing, and a microphone. This will allow you to record video for promotional clips, in addition to your audio.

Hire a podcast producer or a podcast agency.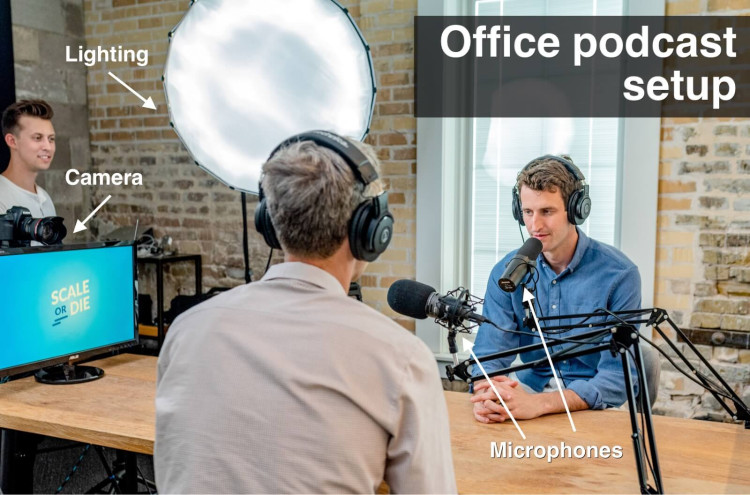 If you can't afford a camera and lighting, you can start with a microphone, pop filter, and software.
If you're just getting started, here's my budget recommendation for podcast gear:
When you're ready to add a DLSR camera to your podcast setup, I recommend the Blackmagic Pocket Cinema Camera 4k.
Choose a compelling topic for your branded podcast
The podcast I do with my co-founder, Build your SaaS, is focused on the burgeoning Software as a Service industry. We covered our journey of building a software company from scratch and shared what we learned along the way.
Our show was able to attract a listenership because we chose a topic people were already searching for: "how to start a SaaS."
Examine your industry for topics that are really resonating. Use tools like Exploding Topics to help surface good ideas for your podcast: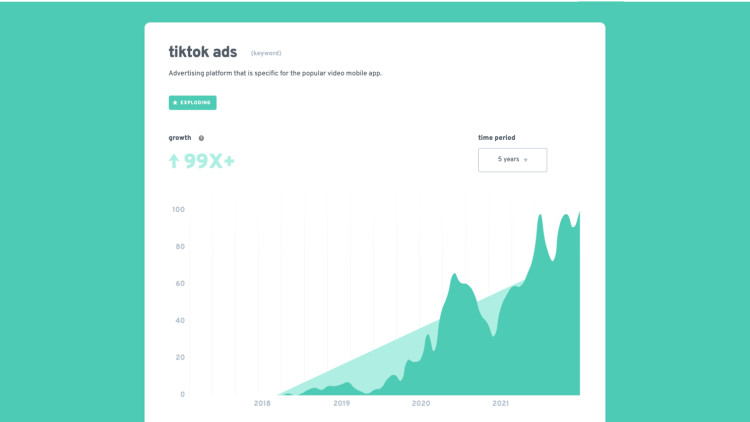 Tools for finding good podcast topics:
You can also do research on tools like Podyssey and Podchaser to see what kinds of episodes people are recommending. Do a little detective work: what is it about a particular episode that compels people to share it? Those are the kinds of episodes you'll want to produce for your branded podcast.
Record a trailer episode
The most potent marketing opportunity is before you launch your first episode. You can build anticipation by recording a short trailer episode first.
A podcast trailer (sometimes called a "teaser") is a short, promotional episode meant to quickly give potential listeners a preview of your show, and what they can expect.
Create a quick script for your podcast's trailer that answers these questions:
What is your branded podcast about?

Who is the audience?

Why should they listen?
Here is a sample script:
"This is a podcast for retail business owners. Every week, I'll share my real-life stories about running my shop, the Dusty Anchor. You'll hear about how I deal with staff, manage cash flow, and increase profitability. If you've wondered how other stores run their business, you'll enjoy the show. You can subscribe now on Apple Podcasts, Spotify, or wherever you listen."
Record and edit your audio (see software options here), and then export the audio as an MP3 file. You'll upload that MP3 to your podcast hosting provider. Podcast hosts, like Transistor, allow you to choose "Trailer" as an episode type:

Once your trailer is published, you can submit your podcast to the various apps (Spotify, Apple Podcasts) and directories. This will allow you to start getting subscribers/followers on those platforms before you launch your official episode.
I would also recommend creating a "coming soon" landing page for your podcast on your business' website. Here's an example. This will allow you to promote the podcast on your company's social channels, and build up anticipation for the show.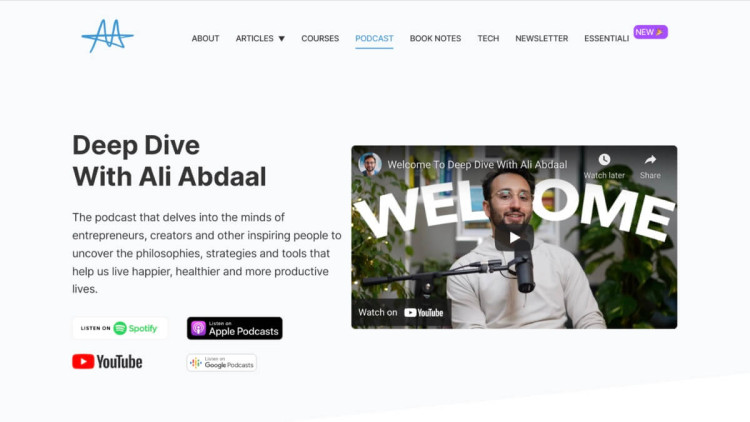 Recording remote podcast interviews
If your podcast is an interview show, or if co-hosts work remotely and aren't in the same location, you can use software to record your audio.
Examples of Branded Podcasts
Here are some of the best podcasts by brands:
Listeners are attracted to compelling stories. The best branded podcasts bring some vulnerability and transparency to their shows.