← Changelog
October 5th, 2018
Automatically publish your podcast to Twitter, YouTube, Spotify
📺 New feature: Automatically publish podcast episodes to YouTube
Some of our users also have big audiences on YouTube. Instead of getting those folks to re-subscribe to their audio feed, they just upload their show to YouTube with a video thumbnail.
Transistor now does this for you automatically! 😍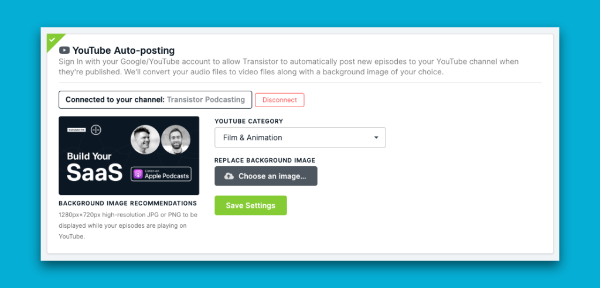 If you're a Transistor customer, this feature is available for Pro customers.
🔊 Automatically publish on Spotify
We integrate with Spotify directly. On Transistor, just let us know you want to submit your show to Spotify, and we take care of the rest!

📩 Automatically email new episodes to your mailing list
Transistor also integrates with MailChimp, ConvertKit, and Drip. This allows you to get new subscribers from your podcast's website (and the embedded web player!).

Once you have folks who have subscribed to your podcast's mailing list, you can set up MailChimp to automatically send them new episodes by email. (Learn how here)
🐦 Auto-tweet new podcast episodes when you publish
You can also connect your Twitter account to Transistor. This will automatically tweet new episodes as soon as they're published.
Transistor also has an embedded player that integrates directly with Twitter. Now folks can listen to your show within the tweet.
🎧 New podcast on Transistor
Steve Usher from Sweden recently signed up for Transistor, and created his first show: