Four years ago, we launched Transistor podcast hosting
Today, August 1, 2022, is the fourth anniversary of Transistor's public launch. Co-founders Jon Buda and Justin Jackson started working together at the beginning of 2018. Their dream was to build an independent podcast hosting company. This is their story.
Jon and I initially met in 2014 at the XOXO festival. Our friend Chase Reeves introduced us, and we soon discovered our shared interest in podcasting.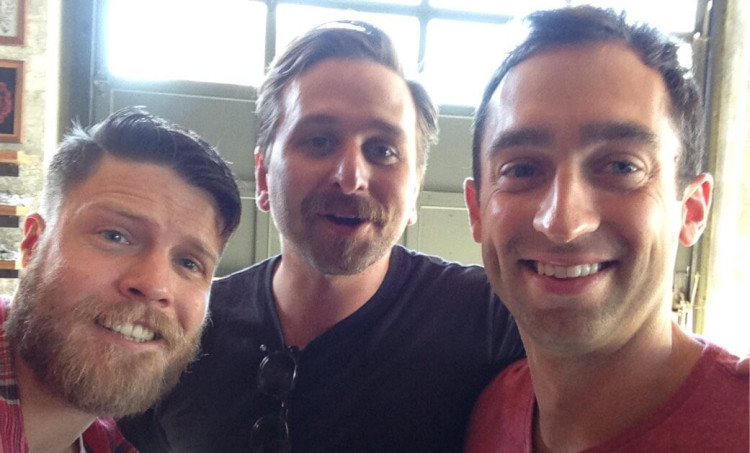 Fast forward to late 2017: after years of hanging out and collaborating on a few projects, we started talking about building a new podcast hosting platform together.
From the outset, we had two main goals for Transistor:
To build the best podcast hosting platform on the planet

To build a good life for us as business owners
Our first brainstorming sessions centered around this question: "What superpowers could we give podcasters?"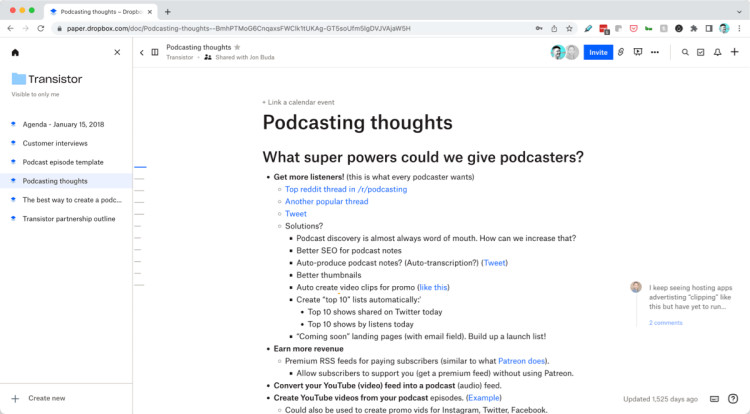 By January 11th, we'd created a Slack group and started developing our ideas together: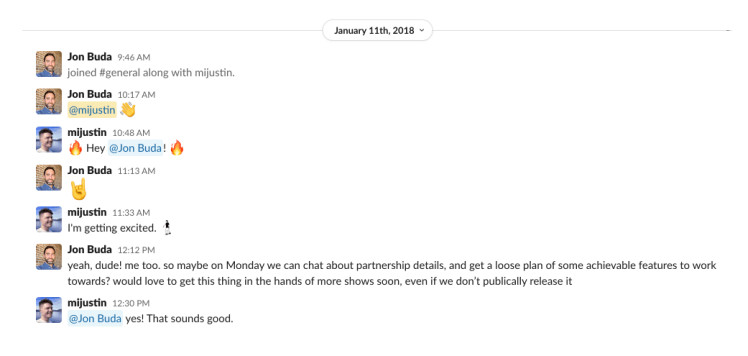 We kept our day jobs and worked on Transistor on the side. Six months later, we were nearly ready to open it to the public, but we needed one last push to get it launch-ready. I booked a flight to Chicago for the end of July. The plan was to stay at Jon's apartment and get Transistor out the door.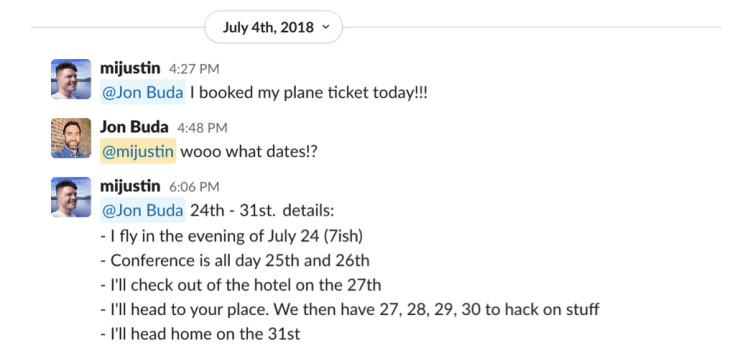 Having our launch date out in public meant the pressure was on: now we had to deliver!
I boarded a flight from British Columbia and arrived at Jon's apartment on July 27. The first thing we did was take this photo: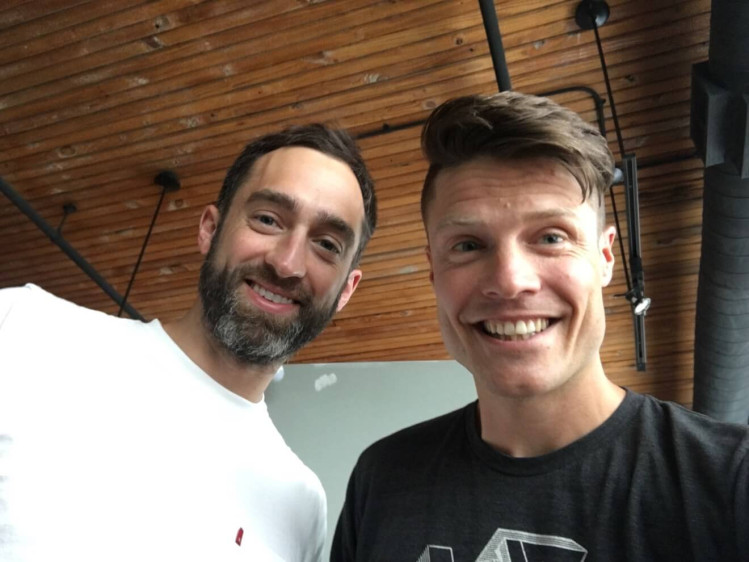 Over the next several days we worked on the final elements of Transistor. For us to launch, there were three items we needed to complete: adding a podcast analytics section to the product, finalizing our pricing, and updating our marketing site.
Up until that point, we'd only worked with each other remotely. To be in person felt special: working side-by-side, taking coffee breaks, and hanging out at night. When we look back on everything we've done with Transistor, these in-person moments are some of our most significant.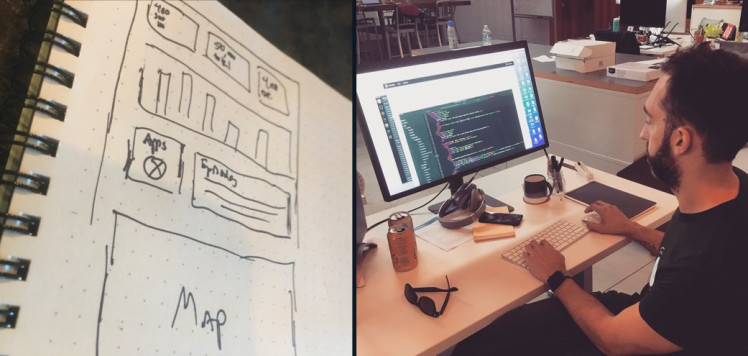 I had to fly home on the 31st. This meant finalizing all the remaining pre-launch steps on airplanes and airports.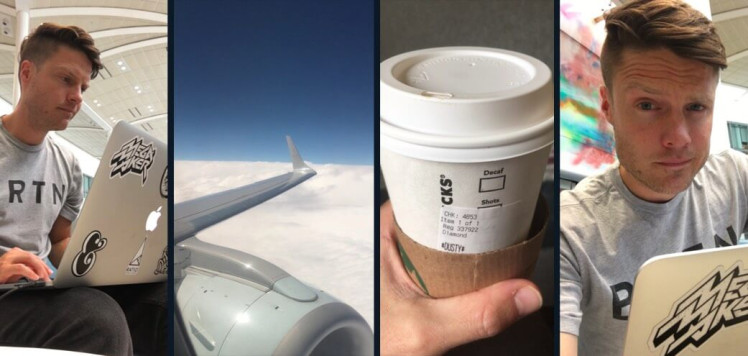 After getting home late, I stayed up until 12:01 am and posted it publicly on Product Hunt. Transistor was officially launched to the public!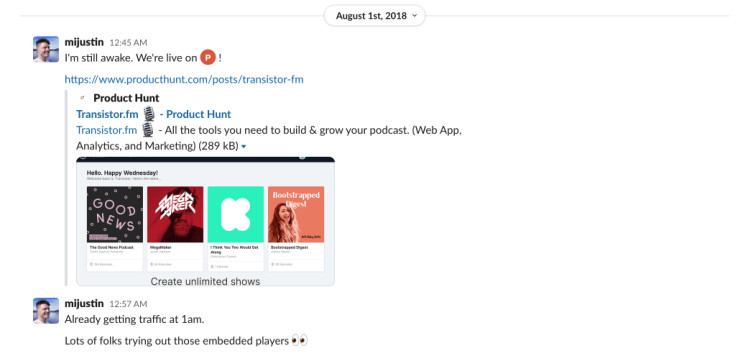 It's hard to communicate what it's like to launch a new product to the public. It's a mixture of relief, fear, and hope. We were relieved to have shipped the product and made it public. But at the same time we were anxious: would people like it? Would people sign up and use it? And finally, we had feelings of hope: could this little business one day support us full-time?
We had an amazing response to our launch. We were the top-rated product on Product Hunt that day and received tons of support on Twitter, Slack groups, and Reddit.

That first month after launch we had 46 paying customers sign up; Transistor was earning about $1,400 a month.
We knew growing the business would take time; this meant keeping our day jobs and working on Transistor on the side. It wasn't easy. Jon went to an office for work all day, then did software development during the evenings and weekends. I had more flexibility with my schedule, so I answered customer support messages all day while working on marketing.
I wrote a blog post at the time that expressed the challenges we were feeling:
When self-funding a startup, you're caught between two realities: investing real time and money into the product, but the product isn't yet giving you anything back.
We forecasted it would take us five years to get to $21,000 in monthly recurring revenue (enough for Jon and me to work on Transistor full-time). Waiting 60 months for a paycheque felt ominous. It's easy to see why many self-funded founders experience burnout and have to quit.
What kept us going? Two things: hearing from customers who loved using Transistor for their podcasts and encouragement from other startup founders: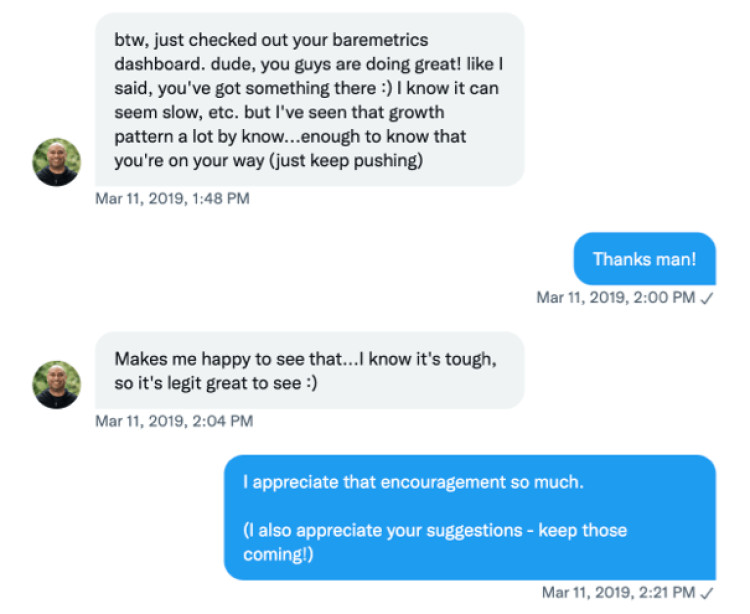 While it felt like we were a long way off from our goal (working on Transistor full-time), we kept shipping new features, helping customers with their podcasts, and spreading the word.
These actions compounded, and 12 months after our launch we achieved our goal: $20,000 in monthly revenue. What we thought might take us 5 years, ended up taking 1 year.

For funded startups in Silicon Valley, $20,000 per month doesn't mean much. But, for indie entrepreneurs like us, this was a big deal. It meant we could finally commit to running Transistor full-time as co-founders.
Shortly after going full-time, I was interviewed on the Indie Hackers podcast, and I communicated what it meant to me:
After years of dreaming, struggling, and working hard, we felt a sense of calm. 
What we've built
Since we went full-time on Transistor in 2019, we've accomplished so much:
What feels most impressive is that we've accomplished all of this with a small team. Jon and I were the only full-time people until 2021 when we hired Helen and Jason.
Throughout it all, we've guided the company based on this belief:
Good businesses have margin. Profit margin? Yes. But also margin for our time, emotional and physical health, relationships, sanity, and integrity.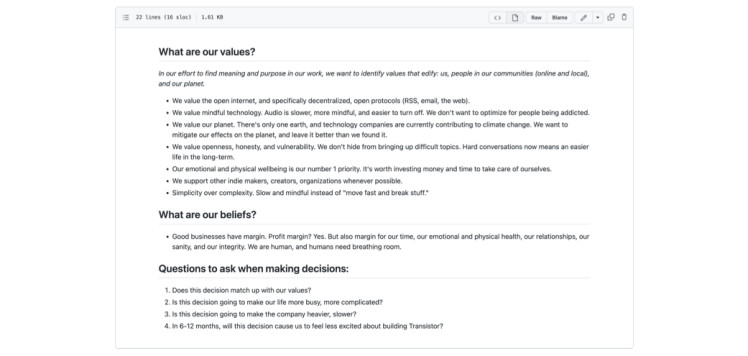 We'll often use these questions to help us make decisions:
Does this decision match up with our values?

Is this decision going to make our life busier, more complicated?

Is this decision going to make the company heavier, or slower?

In 6-12 months, will this decision cause us to feel less excited about building Transistor?
The future 
Every day, Jon and I wake up and feel incredibly lucky: we get to work on a product we love (Transistor), serve creative customers (podcasters), and work with people we like (Helen and Jason).
Our weekly Zoom calls have become the highlight of our week: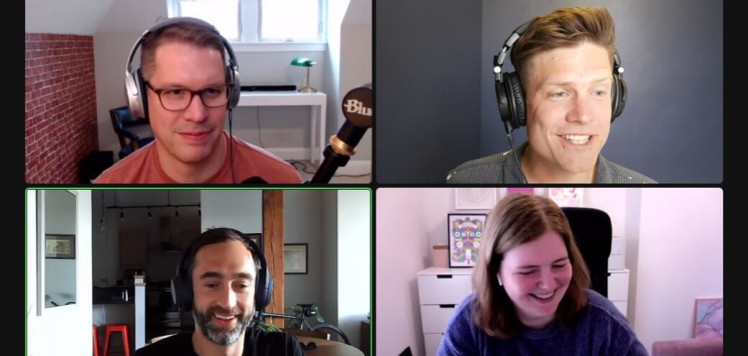 We believe that RSS-driven podcasting has a bright future and will continue to grow steadily (10-15% per year).
Over the next four years, we'll focus on the things that got us here: understanding our customers better than anyone else, building high-quality software, offering exceptional customer support, and having a calm work environment.
We want to thank everyone that helped get us here: our customers, the podcast community, the indie SaaS community, our founder friends, and our families. Thank you. ❤️
Cheers,
Justin Jackson
Co-founder, https://transistor.fm
PS: if you have a podcast and you'd like to be hosted by a small, independent-minded hosting company, we'd love to have you!