Stitcher alternatives: best podcast listening apps to use now
Stitcher is shutting down on August 29, 2023
If you've been using Stitcher to listen to podcasts, it's time to look for a new app. SiriusXM is shutting Stitcher down on August 29, 2023. Thankfully, there are some good alternatives. If you have an iPhone, we recommend Overcast, Pocket Casts, Apple Podcasts, or Spotify. If you're on Android, you should try Pocket Casts, Google Podcasts, or Podcast Addict.
Below we've curated recommendations from Reddit, our team, and other communities for the best Stitcher podcast app replacements.
Top Stitcher alternatives for Android users
Top Stitcher alternatives for Apple iPhone users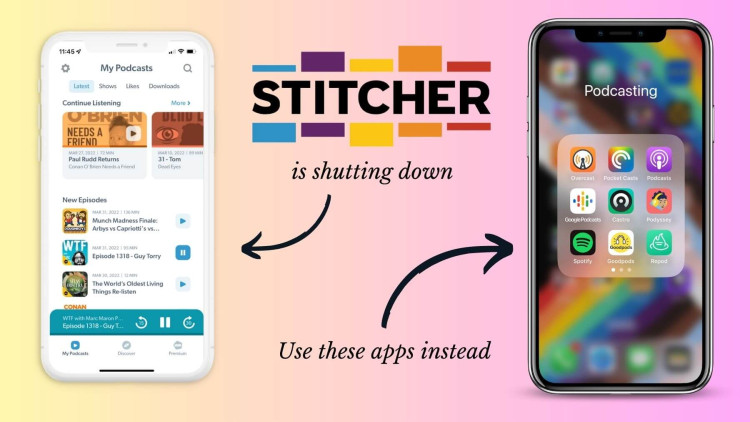 1. Overcast (iOS)
Overcast is the podcast listening app that most of our team uses. It's only available on Apple's iPhone and is built by an independent developer, Marco Arment. Our favorite features are Overcast's "Smart Speed," which automatically discards breaks and pauses in an episode, and "Voice Boost," which boosts and normalizes the volume of all the shows you listen to. It also has intuitive player controls (skip ahead, support for chapters and timestamps, sleep timer). Many Stitcher users are looking for a replacement for the playlists feature, and Overcast is probably your best bet. It's free in ad-supported mode or $10/year without ads.
2. Pocket Casts (iOS, Android, Web)
Pocket Casts is an awesome podcast app that works on iOS, Android, and the web. Like Overcast, it has great options: increasing listening speed, trimming silences, and boosting volume. It also does a great job of displaying show notes and audio chapters. They also have a nice "Discover" menu that helps you find new podcasts to listen to. They have an "up next" playlist feature, but you can't create multiple playlists. However, for some users, their Filters feature might be a good replacement for more custom playlists.
3. Goodpods (iOS, Android, Web)
Goodpods is a social podcast-listening app that crowdsources episode recommendations. Started by two siblings, JJ and Ken, they created the app for "those moments when you're staring at your phone wondering what podcast to listen to next." Their player features a sleep timer and speed controls. They allow you to rate and share each episode you listen to.
4. Podcast Addict (Android)
If you're looking for a dedicated Android-based podcast app, try Podcast Addict. They have a variety of features, including playback speed, the ability to skip silences, a sleep timer, and a volume boost. It also integrates with Android Auto and Chromecast. There is a free (ad-supported) version and a premium version for $9.99/year.
5. AntennaPod (Android)
AntennaPod got many hearty recommendations from various Reddit users. It's ad-free and is an open-source project built by volunteers.
6. Google Podcasts (iOS, Android)
Google Podcasts released this native podcast app in 2018, but it hasn't gotten a lot of love. There aren't a lot of bells and whistles, but it's a good basic player. It has standard features like playback speed control and bookmarking.
7. Spotify (iOS, Android)
While known primarily for music, Spotify has made significant strides in podcasting. They've added new features for podcast listeners, like video podcasts, polls, and Q&As. If you're already a Spotify user for music, you can search for the podcasts you listened to on Stitcher and follow them on Spotify.
8. Apple Podcasts (iOS)
Apple Podcasts is the default podcast app for iOS users, and they've recently made a number of improvements. They've done a big update to how search works: "Listeners will be able to more easily find the podcasts they're searching for with new filters for Top Results, Shows, Episodes, and Channels." Apple Podcasts also provides good recommendations for other podcasts you might like.
How to transfer your podcasts from Stitcher to a different app
Stitcher supports OPML exports, allowing you to export your shows from Stitcher and import them into other apps like Overcast, Pocket Casts, and Podcast Addict.
To do an OPML export from Stitcher, follow these steps:
In the Stitcher App:
Go to Settings.

Scroll down to "Export My Shows."

Click on "Ok, I'll Save It"

Save the file to your device.

Import the OPML file to your new podcast app (Overcast, Pocket Casts, etc)
These instructions work on Android and iOS.
Saying goodbye to Stitcher
In many ways, Stitcher's departure is sad. It was launched in 2008 and was the entry point into podcasting for many listeners. Stitcher was acquired multiple times, first by Deezer and Midroll and then finally by SiriusXM, who paid $325 million for it in 2020. When the Verge reported on the deal, they commented:
With Stitcher, Sirius is bringing another popular podcast player and venerable network into its fold. Still, Sirius' strategy is somewhat unclear. It hasn't clarified how all the pieces of its company will now fit together and what kind of deals it thinks will push it to succeed.
It appears that Sirius is now focused on getting more people to use their SiriusXM app for podcast listening. However, user reviews of the SiriusXM app haven't been good; one person on Discord described the user interface as a "nightmare."
James Cridland has written a great history of Stitcher over on Podnews.