Best podcast analytics tools
Podcast stats can show you how many people listen to each episode, what apps people use (Apple Podcasts, Spotify), and what your most popular episode is. Analyzing this data can help you better understand your podcast's listeners.
The 5 best tools for getting analytics on your podcast:
Analytics on your podcast hosting platform
Most podcast hosting companies provide podcast stats for their users.
For example, on Transistor's "Analytics" page, you can see a variety of high-level stats: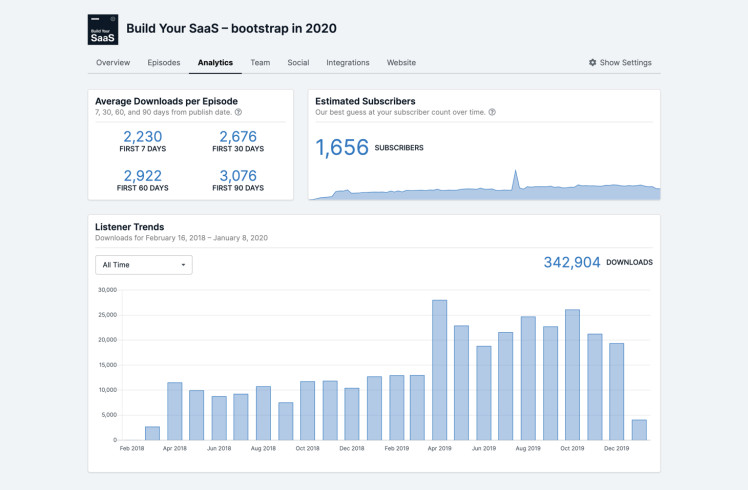 Average downloads per episode
If you're interested in how many listens a typical episode gets, Transistor will show you the average downloads for the first 7, 30, 60, or 90 days once an episode is published.
(A common question from podcast advertisers is: "How many downloads does a typical episode get in the first month?").
How many people subscribe to your podcast?
There's really no way for a podcast host to know exactly how many people are subscribed to your show. Why? There are numerous podcast players (Apple Podcasts, Spotify, Pocket Casts). Most of them don't share subscriber numbers.
However, on Transistor, we estimate the number, based on how many downloads each episode gets in the first 24 hours.
See your most popular episodes
Transistor allows you to filter your episodes by popularity.
One trend we've noticed is that a big guest can drive a lot of downloads. For example, in April 2019 we had a huge spike in listeners. That was the month we released this episode with Taylor Otwell. Taylor has a large audience, and he brought us a lot of new listeners.
In fact, if you look at this download breakdown, you can see our most popular episodes came from interviews: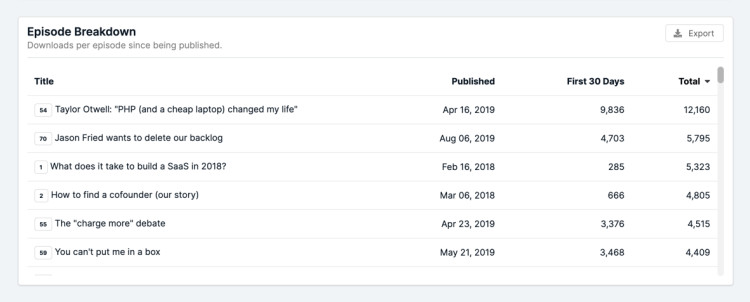 Our conversation with Jason Fried, founder of Basecamp, is our second most popular episode.
After that, our podcast's trailer has the most downloads.
Interestingly, "How to find a cofounder" is quite popular as well. My guess is folks are finding this episode when searching those keywords on Google, Apple, and Spotify.
What podcast listening apps do people use?
In this chart, you can see which podcast apps most of your listens come from; Apple Podcasts, Spotify, Overcast, etc.
Where do our listeners live?
Transistor provides a map, so you can visualize where your listeners live.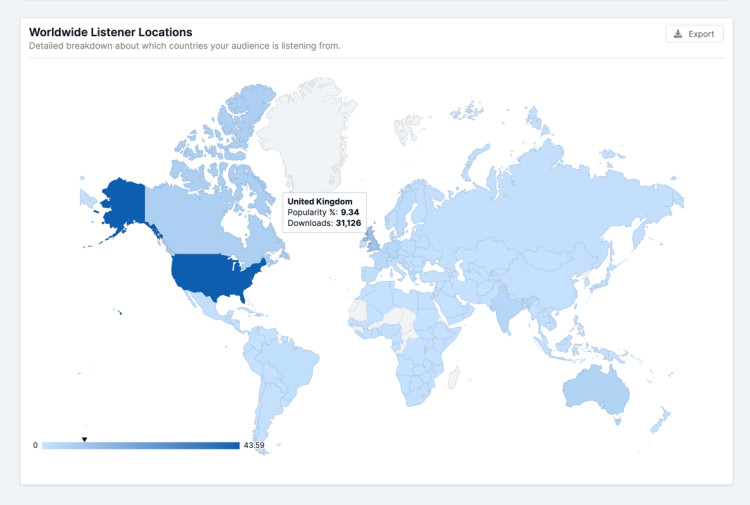 We also show you a table view (which you can export as a CSV).
Podcast stats from Apple, Spotify, Google
In addition to Transistor's built-in stats, you can also see analytics inside Apple Podcast Connect, Spotify's Dashboard, and more.
Apple Podcasts' analytics
In Apple's Spring 2022 release, podcast analytics got a refresh. They now show you how many people have clicked "follow" on your podcast inside their app:
This displays the number of followers (subscribers) your podcast has on Apple Podcasts, over time.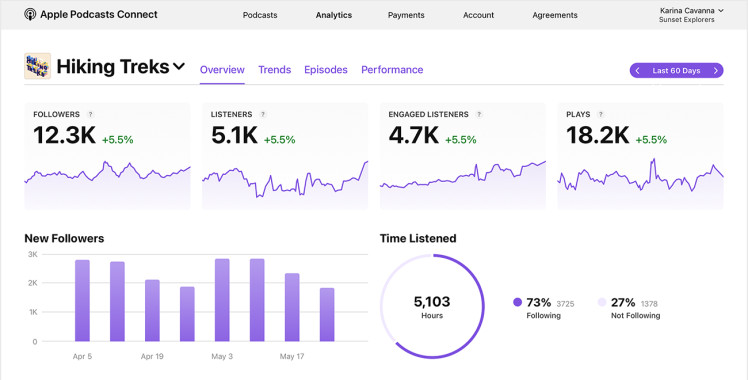 Apple will also show you what percentage of each episode are people listening to, and where they drop off.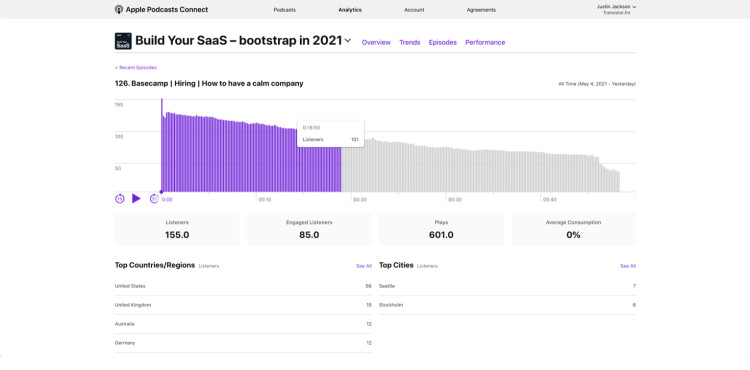 An observation: episodes that are shorter than an hour do better (30 - 45 mins seems to be the sweet spot).
Spotify's podcast analytics
Spotify has its own dashboard for podcasters as well.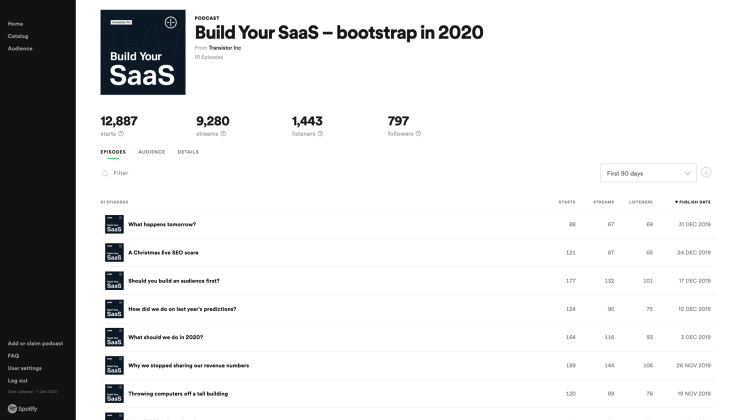 They will show you the number of streams you have on Spotify, plus a chart that tracks the number of listeners:

Spotify also tracks gender. They'll show you how many of your listeners are female, male, non-binary, or not-specified.

They'll also give you an age distribution of your listeners on Spotify. 

Google Podcasts' analytics
In May 2020, Google Podcasts released its dashboard for podcasters: podcastsmanager.google.com.
Once you've verified your show's RSS feed, you'll be able to see how many people listen to your show on Google Podcasts.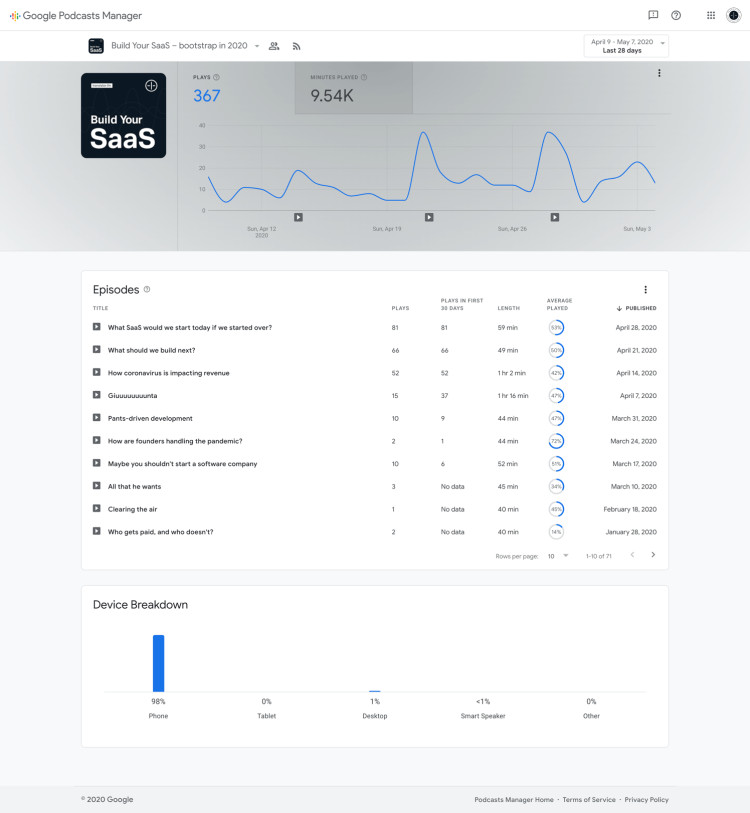 They'll show you:
Number of plays

Average % of an episode played

And plays (and minutes listened) over time
Chartable
You can also use third-party analytics apps, like Chartable.
They offer the ability to track your chart performance on Apple Podcasts and Spotify: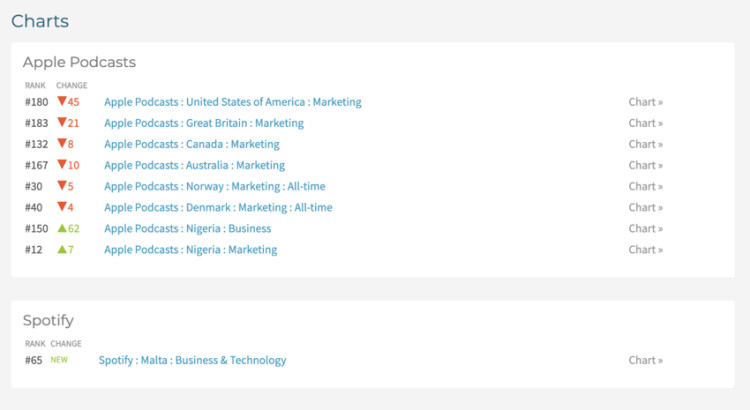 Want to start your own podcast?
To start your own podcast, you basically need three things:
A microphone

Software to record and edit your show

A place to host your audio files, and generate your RSS feed