How to save money on podcast hosting
I started podcasting in 2012 when I started a show called Product People. Back then, I paid around $15 / month for my podcast hosting and analytics.
But, like many podcasters, I couldn't stick with just one show. Soon, I was collaborating with other people, and starting new podcasts. Plus, I created audiobooks for two of the books I'd written.
This introduced three problems:
I was paying for 8 podcast hosting accounts ($15 x 8 = $120 per month!)

I wasn't able to manage all of my podcasts from one account

On some podcasts, I had co-hosts and editors who also needed to access the show's settings and analytics.
Now, I manage everything from one account, for one price
On Transistor, you can publish as many separate podcasts as you'd like, starting at $19 / month!
Here's how many podcasts I manage today: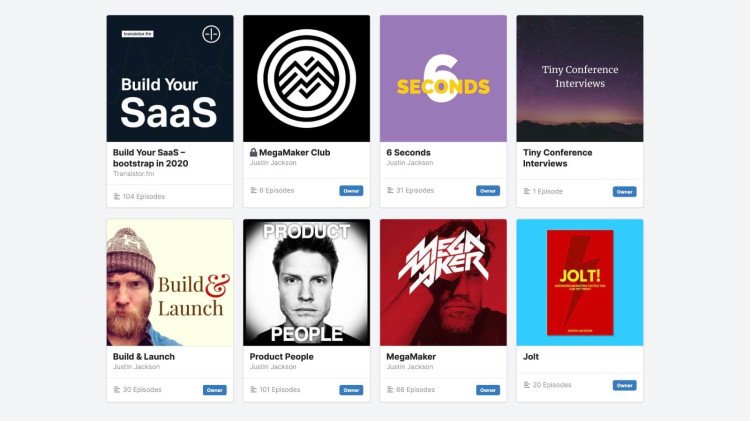 With my old hosting provider, it would cost me $1,440 a year to publish eight podcasts. On Transistor, it costs me only $190 / year. 
On Transistor, I'm saving $1,250 a year on podcast hosting.
Plus, other podcast hosting companies charge for "advanced" features, but Transistor gives them to you for free:
Advanced analytics (example)

Free website for your podcast (sample)

Free SSL certificate for your podcast website

Manage multiple podcasts from a single account (demo)

It's free to connect a custom domain to your podcast website

It's free to export your analytics as CSV files, and download them

You get unlimited storage, unlimited uploads, and you can create as many episodes as you'd like.
If you're looking to save money on podcast hosting, or want to combine all of your podcasts in one place, you can get a free 14-day trial of Transistor here.