Google Podcasts alternatives to use (instead of YouTube Music)
Google announced that it is shutting down Google Podcasts in 2024 to transition podcast listening to its new YouTube Music app. However, many users don't want to use YouTube Music for podcasts, especially Android users who like the experience of having a separate podcast-listening app.
Thankfully, there are some good alternatives. If you're on Android, try Pocket Casts, Podcast Addict, or AntennaPod. If you have an iPhone, we recommend Overcast, Pocket Casts, Apple Podcasts, or Spotify.
Below we've curated recommendations from Reddit, our team, and other communities for the best Stitcher podcast app replacements.
Top Google Podcasts alternatives for Android users
Top Google Podcasts alternatives for Apple iPhone users
Overcast

Apple Podcasts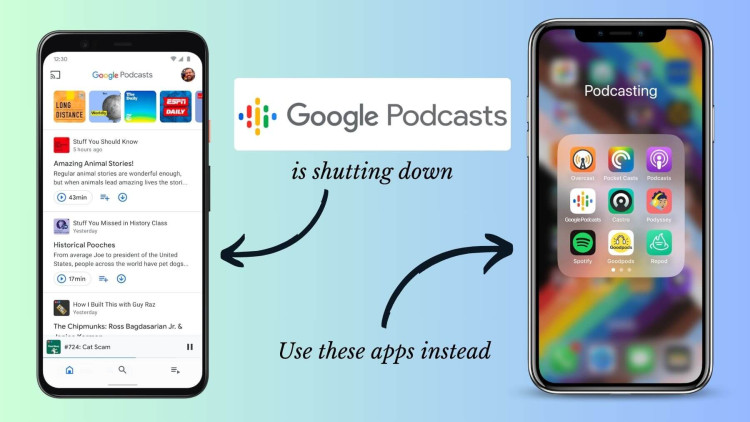 1. Pocket Casts (iOS, Android, Web)
Pocket Casts is an excellent podcast app on iOS, Android, and the web. It has great features: you can increase listening speed, trim silences, and boost volume. It also does a great job of displaying show notes and audio chapters. They also have a nice "Discover" menu that helps you find new podcasts. They have an "up next" playlist feature, but you can't create multiple playlists. However, for some users, their Filters feature might be a good replacement for more custom playlists.
2. AntennaPod (Android)
AntennaPod is an ad-free podcast player and is an open-source project built by volunteers. It also boasts a high degree of customization, allowing users to tailor their listening experience to their preferences. Manu users like the absence of podcast recommendations and ads, ensuring a clutter-free user experience.
However, it's worth noting that AntennaPod does have its limitations. One notable drawback is the lack of a web interface, which means users can't listen to podcasts on their computers directly through the app.
A particularly admirable feature is its ability to export subscriptions and play history to a file. This ensures that users can maintain a backup of their listening history without being tethered to Google.
3. Podcast Addict (Android)
If you're looking for a dedicated Android-based podcast app, try Podcast Addict. They have various features, including playback speed, the ability to skip silences, a sleep timer, and a volume boost. It also integrates with Android Auto and Chromecast. A free (ad-supported) version and a premium version for $9.99/year.
How to transfer your podcasts from Google Podcasts to a different app
Unfortunately, Google Podcasts does not currently support OPML exports. The only way to transfer your podcast subscriptions to a different app is to search for all the shows you follow manually.
However, TechCrunch reports that Google is building an OPML export solution:
Google will also support the option to download an OPML file of their show subscriptions from Google Podcasts, which they can upload to any app that supports importing if they don't want to move to YouTube Music.
Saying goodbye to Google Podcasts in 2024
Google Podcasts, like many of Google's ventures, has been a significant player in the podcasting world. Launched as Google's default podcast listening app, it quickly gained traction among Android users. It was also one of the first places new podcasters would submit to after starting their show. However, now Google is trying to switch its audio strategy from Google Play and Google Podcasts to YouTube Music.
The podcasting landscape is vast, with many players vying for the top spot. Despite its install base, Google Podcasts only had 2% of the podcast listening market.
Also, what we see in YouTube Music will change as they add new features for podcasters. At the Podcast Movement conference, Steve McLendon announced that YouTube Music will soon allow users to allow users to add RSS feeds, including private feeds.