A video podcast is a series of episodes, usually featuring one or most hosts speaking on microphones. There are three types of video podcasts: those hosted on YouTube, those hosted on Spotify, and those hosted in a traditional podcast RSS feed (playable on Apple Podcasts, PlayerFM). Examples of video podcasts include Joe Rogan and Diggnation.
Confusingly, the term "video podcast" is used for three distinct formats:
An RSS video podcast feed: playable on podcast apps like Apple Podcasts

YouTube podcast: typically featuring a host and guests on mics, in a panel format

Spotify video podcast: episodic video content uploaded exclusively to Spotify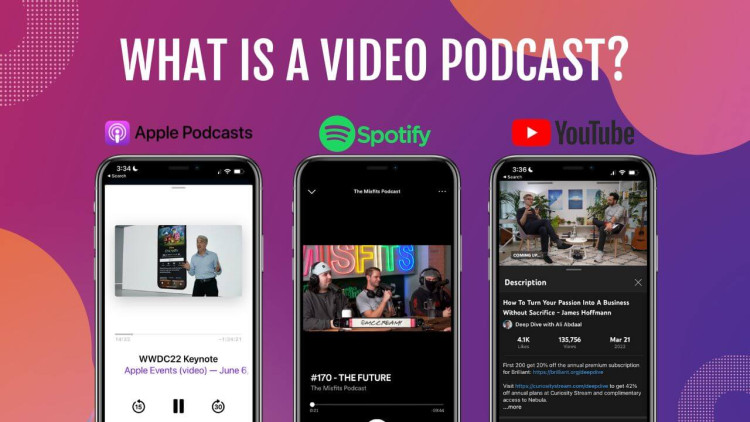 Video podcast RSS feed
While many think of podcasting as an audio-only medium, the ability to include audio and video in podcast feeds was introduced in October 2000.
Not many people know about it, but Apple Podcasts (iTunes) has supported video podcasts since 2005.
To generate a video-compatible RSS feed, a podcaster links to a video file in their episode enclosure. For example:
<enclosure url="http://mypodcast.com/episode001.m4v" length="4619678" type="video/x-m4v" />
You can see a sample video podcast RSS feed for the Total Leo show.
For more information on how to format an RSS feed for video podcasts, read Apple's documentation.
Which podcast apps support video podcast feeds?
Apple Podcasts (iOS, Mac) – video podcasts will have a "Video" label on them (next to the publish date).

PlayerFM (Android, iOS) – in the "Discover" tab, click in "Video" in the upper navigation.

Downcast (iOS, Mac) – generally, searching for "video" in "Search for Podcasts" will return video podcasts
YouTube video podcasts
When Gen Z folks hear "video podcast" or "podcast," they might think of YouTube first! Typically, these are YouTube channels that feature hosts and guests speaking to each other as a panel.
A good example is ConvertKit's podcast (which they also publish as an audio podcast):
Many podcasters will publish full episodes (or clips) on YouTube, in addition to distributing an audio version of their podcast on Spotify, Apple Podcasts, Google Podcasts, etc. (For information on creating an audio podcast, start here).
Video podcasts on Spotify
To add to the confusion surrounding video podcasts, Spotify now uses the term for video that is uploaded and viewed exclusively on their platform. They have more information on their website:
Video Podcasts (on Spotify) are available to creators in the US, UK, Australia, New Zealand, and Canada.
How do I watch a video podcast on Spotify?
Spotify doesn't currently have a video podcast category. Any podcast that supports video will be viewable once you click "Play."
Here are some video podcasts on Spotify to get you started:
Does Transistor support video podcasts?
Transistor doesn't currently host video podcasts, but we will be adding the ability to embed YouTube videos in your podcast's episode website pages soon!