Tips for getting more Twitter followers for your podcast
On Reddit, a user asks:
Remember, growing an audience on Twitter (or for your podcast!) is a long-term game. Thankfully, the rule for growing followers is the same, whether it's on social media or with your podcast.
The #1 rule for growing your audience
People follow you on Twitter, or subscribe to your podcast, for one reason only: you make their lives better in some way.
The way to "bump up the number of followers/subscribers you have" is to do more of what your audience wants.
Too often, our aspirations for a bigger audience are self-centered. We're only thinking about our desire for more. But to grow your influence, you need to be focused on the desires of your audience.
Ideas for growing your podcast's Twitter followers
With that said, here are some ideas you can try that will help you get more Twitter followers. Almost all of these tactics can also be applied to the audio content you're producing for your podcast!
Give practical advice people can use
Being helpful is one of the best ways to grow your audience. Here's a good example from Steve Schoger:
🔥 Deeply nested sidebar navigation can quickly become complex and overwhelming.

A great alternative is to split your layout into sections and give each section its own navigation. pic.twitter.com/TC5JAZLjSI

— Steve Schoger (@steveschoger) January 21, 2019
Steve is a master of giving bite-sized takeaways, that his Twitter followers could go an implement immediately. It's no wonder his Twitter account grew from 436 followers to over 20,000 in less than two years!
Offering tactical advice works great in podcasts as well. Here's some feedback we got for episodes we did on the Build your SaaS show:
Great episode from @mijustin. It's one of those episodes you save for the next time you're trying to prioritise work on your product and you're not sure you've got the marketing boxes ticked https://t.co/tJh33pylu7

— Chris Dermody (@cderm) January 22, 2019
Ask your listeners to tweet you while they listen
While I'm recording my podcast, I'll speak this line:
It's surprising how often folks will do this!
@mijustin Hey Justin! Right now listening to episode 39 on my morning walk here in Melbourne. Love the show! 👊

— Stuart Watson (@watsonstuart) December 19, 2018
Twitter is a great way to make your show more interactive:
Ask your listeners a question in the audio, and instruct them to answer on Twitter.

Have your listeners tweet you a photo of where they're listening from.

Run a contest, where folks have to tweet you a secret phrase in order to be entered for a draw.
Use Periscope to livestream your podcast on Twitter
Periscope is Twitter's livestreaming app. Lately, Twitter has been promoting live streams inside their mobile app, at the top of the newsfeed: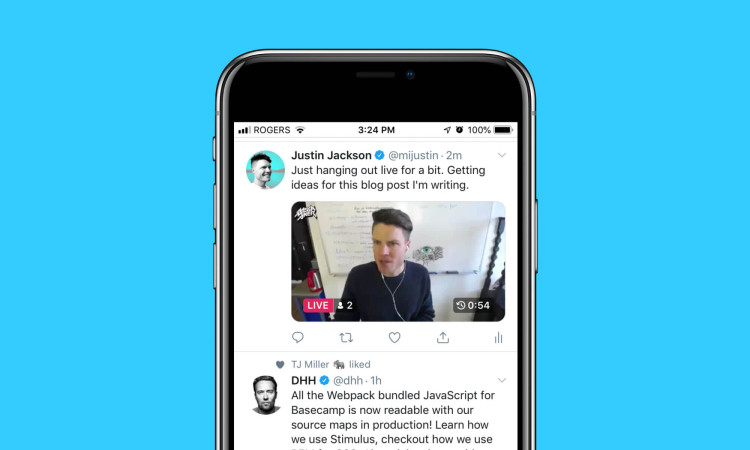 This is a big opportunity for podcasters. Using a tool like Ecamm Live, which integrates with Skype, you and your co-host can stream the recording of your podcast live. Ecamm Live will allow you to broadcast to Periscope (Twitter), Facebook, and YouTube.
Livestreaming is a great way to interact with your fans, and get more exposure for your podcast. (I've written more about this here)
Remember rule #1
There are lots of folks out there asking these questions:
"How come more people aren't following me on Twitter?"
"How come my podcast doesn't have more listeners?"
The question you should be asking is:
Listen to this as a podcast: