Transistor vs Simplecast for podcast hosting
Transistor is a good alternative to Simplecast for podcast hosting and analytics.
I wanted to start multiple podcasts without spending too much money. Transistor gave me the ability to create unlimited shows on their Starter plan, so I switch from Simplecast.
Host unlimited shows on one account, for one price
Simplecast charges users $15 / month per show.
Transistor gives you unlimited podcasts for $19 / month.
Four shows on Simplecast: $60

Four shows on Transistor.fm: $19
We believe one of the best ways to get more listeners is to experiment with multiple formats. This could mean remixing your existing long-form content, into shorter podcasts (for example, a 5-minute highlight show).
On Transistor, you're not penalized for starting more shows.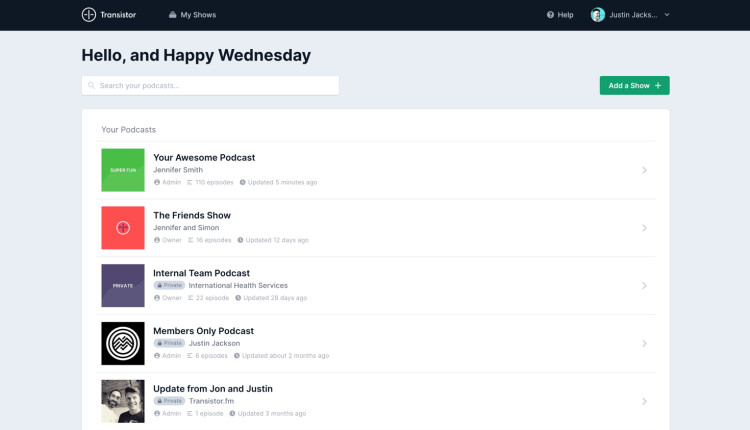 The other benefit is you won't have to pay $15 per month for old archived shows. If you decide to retire a show, it just fits with the rest of the shows on your account.
Simplecast is owned by a large media conglomerate
Simplecast was purchased by SiriusXM Radio in 2020. Many of its users were surprised by the move:
Wow, SiriusXM acquired Simplecast. Kind of a shocker there. Lots of indie podcasts use Simplecast. Wonder if they'll stay on the platform now that it's going to turn into an ad generator?

– Sam H.
Transistor is an independent podcast hosting company headquartered in Chicago. We're bootstrapped, profitable, and have no plans to sell. Our goal is to support indie creators and podcasters.
We've had hundreds of Simplecast users switch to Transistor. Here's what they've said:
Podcast websites optimized for search
Up until now, most podcast discovery happened in iTunes.
But, SEO is going to be increasingly important for podcasts going forward. Google recently announced that they'll be showing podcasts in search results.
Our custom podcast websites are optimized for search. We automatically generate sitemap.xml for your site.
Clean, lean, smart podcast player
We generate a shareable landing page for every episode you publish. When you tweet that link, it embeds the audio player like this.
This audio player can also be embedded on a landing page, on WordPress, and in a blog post. You can set it to automatically play your most recent episode like this:
In-depth podcast analytics
When you need to report on your podcast stats at the next marketing meeting, you need to see the numbers that matter.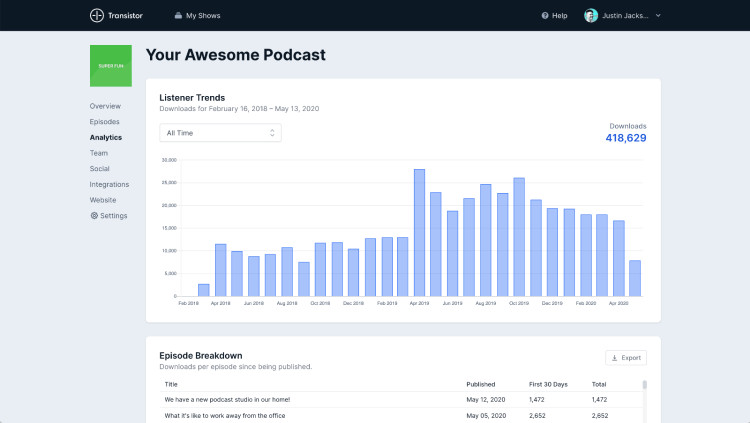 Our podcast stats will show you:
Average downloads per episode, organized by "first 7, 30, 60, and 90 days."

The number of subscribers you have (estimated based on past download history).

Listener trends over time.

A complete episode breakdown: order your episodes by total downloads, date, and average downloads.

How many people are listening on each podcast app (Apple Podcasts, Spotify, Google Podcasts, Overcast).

A map of where your listeners are from, worldwide.
Looking for a Simplecast alternative?
We've had hundreds of Simplecast users switch to Transistor. Why are they switching? Some folks didn't like Simplecast's new pricing:
Simplecast's new pricing is too expensive. Their essential plan is $35/month per show. I host multiple podcasts: my monthly bill would be over $100!
Other users who switched don't like the recent UI refresh they did:
Simplecast just released a new UI. It's fancy, but far from "simple." I've been using it for months, and I still get confused and make errors on almost every new episode.
You can migrate to Transistor with just one click. 
In Simplecast, go to "Sharing" in the menu, and copy the URL under "RSS Feed."