Arnold recently announced on Twitter that he's starting an email newsletter. On his website, he says:

I have the best fans in the world, and I want to be able to keep you updated on what I'm doing. I'm sure you already follow me on Twitter, Facebook, Instagram, and reddit, but I'd also love to send you emails to keep you aware of what I'm doing, what I'm reading and watching, and what I'm passionate about.
I'm a big fan of email newsletters, but I think Arnold shouldn't stop there. There's no reason he couldn't take the best stuff from his newsletter, and also turn it into a compelling podcast.
In a recent blog post, one podcast listener commented about how good Schwarzenegger is as a guest on podcasts like Nerdist and Tim Ferris:
One podcast interview that recently surprised me was the Nerdist's interview with Arnold Schwarzenegger. Lately, I've seen a lot more Arnold Schwarzenegger content going around the internet with his viral videos. So I didn't expect anything helpful for my career to come from it. Instead of the podcast being a promotion for his upcoming movies or a look back on his film career, the podcast became an hour for Arnold to share his career wisdom. I highly recommend it.
Why brands, influencers, and media personalities should podcast
On Twitter, Allan Klement pointed out that established media entities, like Conan O'Brien, have started using podcasts to expand their brands.
In a sense, this is something that traditional media has been doing for decades: expanding into other channels, offering "behind the scenes" content, increasing their distribution.
But this most recent wave of podcasting is attracting more established media personalities. What's behind the trend?
In this interview, Joe Rogan asks Dr. Phil why he's starting a podcast:
Joe: When you've been doing your show as long as you've been doing it, and I'm sure you've made a ton of loot, what makes you want to do a podcast?

Dr. Phil: There's a whole population that's not going to watch broadcast television during the day. If I can get a crossover between the two, then I can get a bigger audience to spread my message. My goal is to spread the message. I want to do anything that's scalable to get the message out there.
Television brands are experimenting with podcasts, in part, because of their aging demographic. They want to reach a younger audience: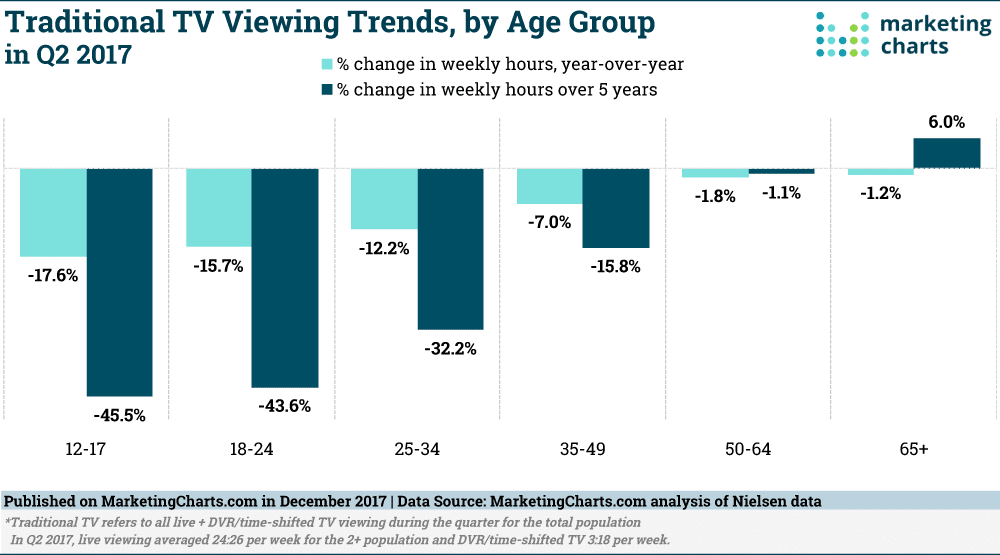 But beyond that, traditional broadcasters are attracted to podcasting's flexible format. They're long form. Less rigid. More personal.
In the podcast, I'm not solving a problem. I don't have somebody there. I'm just talking to people that I find interesting. I'm able to talk to them about whatever I want to talk to them about. I like that it's more freeform.

- Dr. Phil

Arnold Schwarzenegger's podcast
Arnold has a recognizable voice and has already proven that he can connect with fans on the internet (on Reddit, Twitter, and YouTube). He's also passionate about a topic that could do well in audio form:
Movies and entertainment: Arnold could provide behind the scenes updates on his new films, interviews with cast members, as well as talk about cult favorites like the Terminator.
Social issues: Schwarzenegger is currently fighting for clean energy, and has insight into how the political system works. He also has access to policymakers, scientists, and activists.
Health and fitness: health podcasts are a popular genre. Arnold could own that segment with a fitness-focused show. I think a show called "Arnold's fitness motivation hour" would do quite well.
We've already seen that folks who have an existing audience, like Conan O'Brien, can quickly climb the Apple Podcasts charts: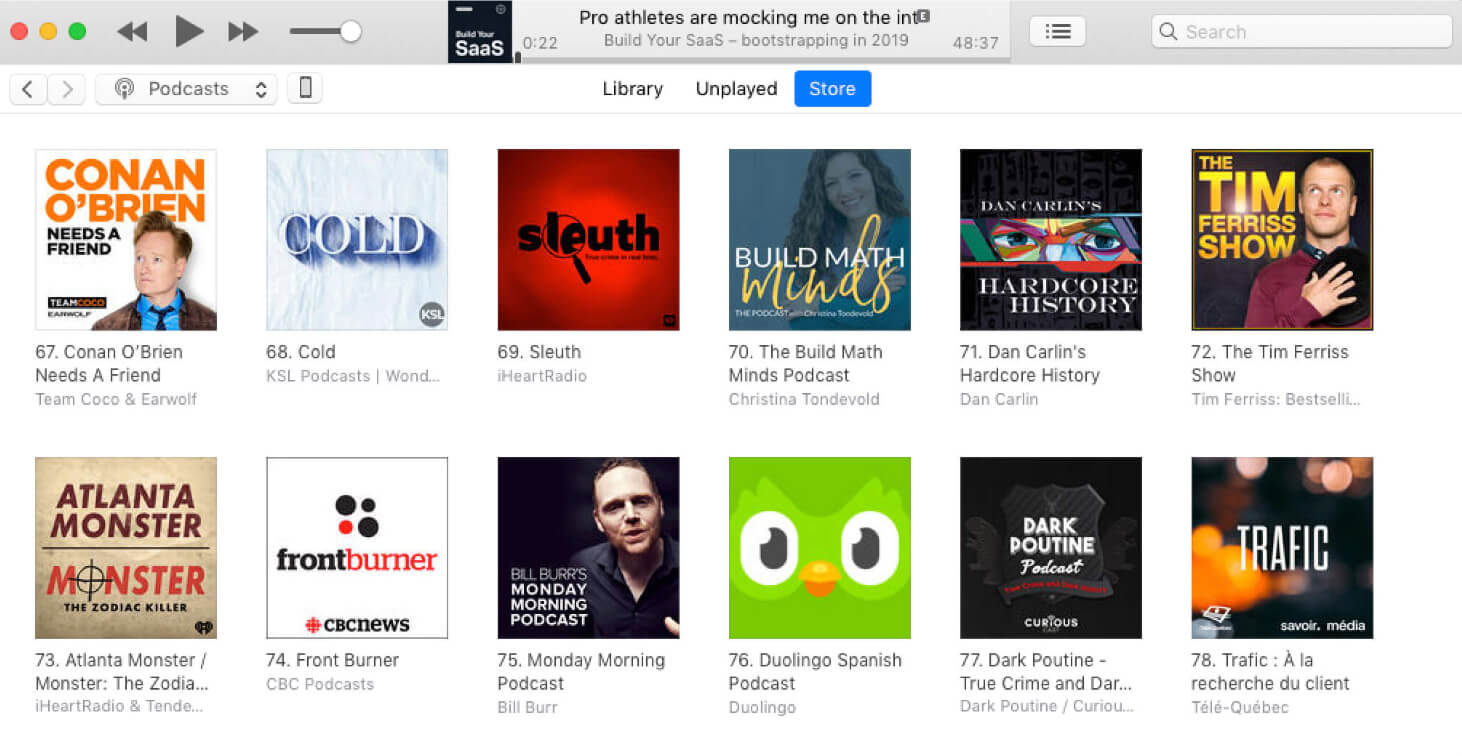 Organizations, brands, and personalities (like Schwarzenegger) should be taking advantage of this opportunity.
What does this mean for you?
You don't need an audience as big as Schwarzenegger's to benefit from this latest wave of audio.
Producing a podcast gives you the opportunity to connect with your audience in a deeper way.
Last month I heard from Ashley Baxter. She's started her podcast on Transistor over a year ago. And, she didn't have a big following to start with! In her first month, her show got ~50 downloads. But by consistently posting new episodes, she's grown her listenership. Most recently, her podcast crossed 5,500 total listens!
Even more exciting, Ashley contacted me with this news: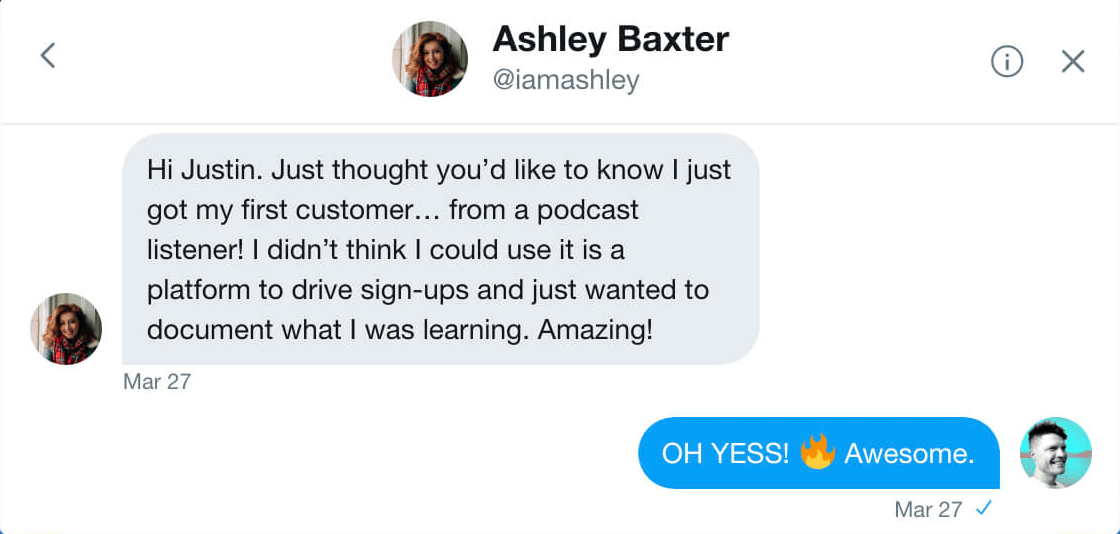 This is how podcasting works.
Don't focus on hacks or "get-rich" quick tactics. Just put in the work, and gradually, over time, you'll be rewarded for it.
Published on March 27th, 2019