How to get more podcast subscribers
Most podcasters keep an eye on their monthly download numbers. But ideally, what you want is more subscribers. When listeners subscribe to your podcast in Apple Podcasts, Spotify, Pocket Casts, or Google Podcasts, they will automatically receive new episodes when you publish them.

Transistor estimates podcast subscribers like this:

This chart averages out the first 24 hours of downloads of your last three episodes to calculate an estimated subscriber count over time.

But how do you increase the number of subscribers you have?
Your subscriber count affects your ranking on Apple Podcasts and Spotify
Podcast rank on Apple Podcasts is determined primarily by the number of new people subscribing to your show. As reported by The Verge:
As James Cridland explains here, "an appearance on the Apple Podcast charts reflects a podcast's ability to attract a larger number of new subscriptions to their podcast over recent days."
Here are some techniques to increase your subscriber count over time.
Remind people to subscribe on every episode
You've probably heard other podcast hosts do this on their show. They'll say "Please leave a review on iTunes." However, what they should be saying is:
Here's how the podcast The Bigs does it:
When you remind your listeners to subscribe to your show, they're more likely to do it! 

The key is consistency: remind your listeners they can get upcoming new episodes when they subscribe in their podcast player.
Have a "subscribe page" and link to it
Your podcast should also have a landing page where folks can quickly go and subscribe to your show. 
Here's an example from Rockin' With the Bigs: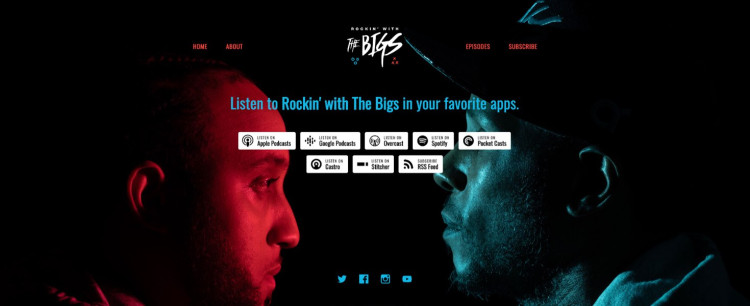 Ensure that you've submitted your podcast to Apple Podcasts; many of the other podcast players use their directory. You should also submit separately to Spotify.
Create a podcast trailer
When folks are browsing Apple Podcasts, the first thing they'll see is your podcast's trailer (if you have one). Your trailer is a great way to give people a quick sample of what your show is like, which can help gain more subscribers.
Here's an example trailer from the Rupaul's Dragrace podcast:
Your podcast's teaser should be short and energetic. It should also have a clear call to action at the end:

It's also a good idea to turn this trailer into an audiogram video clip, using a tool like Headliner. Here's an example from Andy Mineo's podcast:
You can use these clips on YouTube, Instagram, and Facebook.
Feature your podcast trailer & subscribe link
Social platforms allow you to have "featured content" that always appears at the top of your feed. On Twitter, this is called a "pinned tweet." It's a good idea to use this featured content to promote your podcast's trailer and link to your subscribe page.
Here's an example of a pinned tweet from the Build your SaaS podcast:
Now, when people visit your Twitter profile, they'll see this tweet first. (Want to increase your number of Twitter followers? Read this.)

You can also feature your trailer's video clip on your Instagram profile, YouTube channel, and Facebook.