Giving podcasters more (during a recession)
The evidence of a looming recession is all around us: startups are doing layoffs, desperate hosting companies have started spamming podcasters, big megacorps have scaled back hiring, and many businesses are raising their prices.
Today, I'm happy to announce that Transistor is doing the opposite: we're making our podcast hosting plans significantly more generous. We've increased the Starter and Professional plans' monthly download limits by 33% and the Business plan by 25%:
Starter: 20,000 (up from 15,000)

Professional: 100,000 (up from 75,000)

Business: 250,000 (up from 200,000)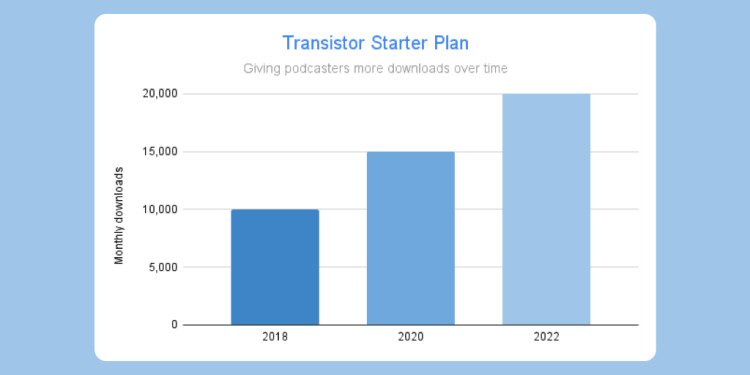 Since we launched, we've been committed to giving podcasters more value for less cost:
You can start unlimited podcasts: we don't charge you for creating additional shows on your account. Many podcast networks that switch to us save hundreds of dollars per month.

Unlimited storage and uploads: other hosting platforms charge you for the amount of audio you upload. On Transistor, you can upload as much as you need.

Increased monthly downloads: since 2018, we've increased our Starter and Professional plan limits by 100%.

Free podcast websites for everyone: we recently launched a tool that gives all podcasters the ability to create a professional website for their show. There are multiple designs to choose from, and you can use your custom domain. We even provide SSL!
Transistor is an independent podcast hosting company. While we're not immune from the effects of a recession, our independence gives us a significant advantage during a downturn.
We don't have investors: some podcast companies have raised significant funds. When venture capitalists invest hundreds of millions of dollars, they expect their portfolio companies to grow fast. This can put pressure on a company to increase prices, have high advertising costs, and lay off employees. Transistor doesn't have this outside pressure: we're 100% focused on our customers.

We have low overhead: without pressure from investors, we've been able to hire a small team of talented employees. During a downturn, we can continue to pay our employees competitive salaries and offer a high level of service to our customers.

We're profitable: many big podcasting companies operate at a loss. During a recession, they lose even more money, and can't afford to invest in their product. Transistor has been profitable from the beginning. Thanks to our customers, we're planning to invest even more in the next few years to make our product and service better.
Looking for a new podcast hosting platform?
Transistor is committed to taking care of podcasters by giving them more, whether we're in a recession or not.
Switching your podcast to us is easy! There's a one-click import, and then all you have to do is forward your old RSS feed to your new Transistor RSS.