← Changelog
January 1st, 2019
Free SSL certificates for your website
From the beginning, Transistor has featured secure (SSL) podcast feeds.
For example, the feed URL for our Build your SaaS podcast is:
https://feeds.transistor.fm/build-your-saas
On Podbase (the podcast feed validator) Transistor's feeds get the highest score possible: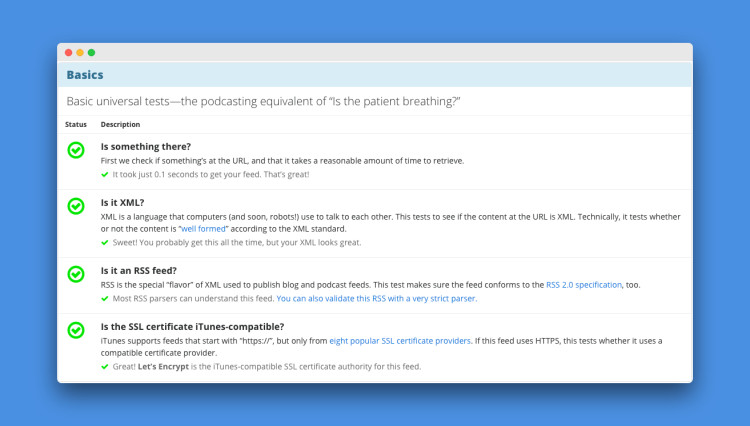 Our built-in podcast websites are also secured by SSL when hosted on our domain:
What we haven't had, until now, is SSL for customers who want to use a custom domain (like productpeople.tv).
Free SSL certificate for your podcast's custom domain
We've enabled free SSL certificates from Let's Encrypt for all data that passes through Transistor.
Now, you can securely encrypt all the data that passes through Transistor, including your podcast website with your custom domain name – for no extra cost.
Simply configure your Transistor website to use your custom domain name, and then visit https://www.yourdomain.com and everything will be served securely. No additional configuration is needed.
We handle the initial certificate generation and all subsequent renewals automatically. You can just set it and forget it!
Many of our competitors require that you purchase an SSL certificate yourself; which can cost $70 - $200 per year!
Why you need SSL for your podcast
Apple Podcasts requires HTTPS
Apple Podcasts (the largest podcast directory on the web) updated their SSL policy in 2017:
To see if your podcast feed is secure, use the Podbase validator (again, we provide this for Transistor customers).
SSL improves appearance on Google
But having SSL enabled on your podcast's website is equally important. In 2014, Google updated their search algorithm in favor of sites with HTTPS. They've indicated that they will continue to prioritize websites with HTTPS in search results. It's one of the easiest steps you can take to improve your website's search ranking.
Google also owns the world's most popular web browser, Chrome. In the address bar Chrome now display a "Not Secure" message for sites without an SSL certificate, making them look untrustworthy.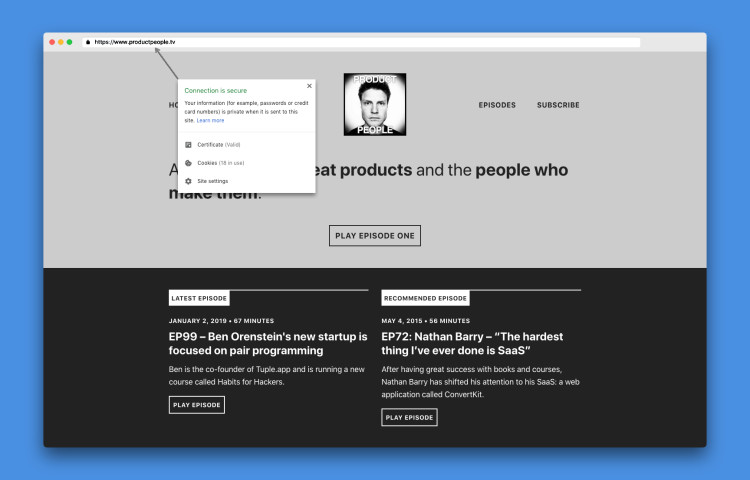 Your brand deserves the best
Free SSL is just another way Transistor is trying to help brands succeed with podcasting.
Now, you can get a free SSL certificate on your custom podcast domain!
For more information, read our help section.