← Changelog
March 3rd, 2021
Private podcast subscribers can now receive new episodes by email
Now, you can notify subscribers every time you publish a new episode.
Even better: they can listen to that episode in their web browser!
We noticed that many private subscribers had difficulty adding the private podcast feed to a player like Apple Podcasts, Podcast Addict, Google Podcasts. Plus, some popular players (like Spotify) don't support private podcast feeds.
This new feature circumvents all of that. Now, subscribers get notified when there's a new episode and can click a link to listen right away (no podcast listening app required):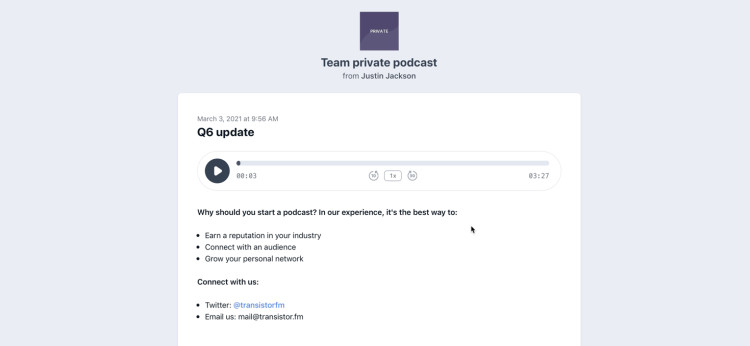 The web browser view also allows subscribers to browse episodes, and listen to other unplayed episodes.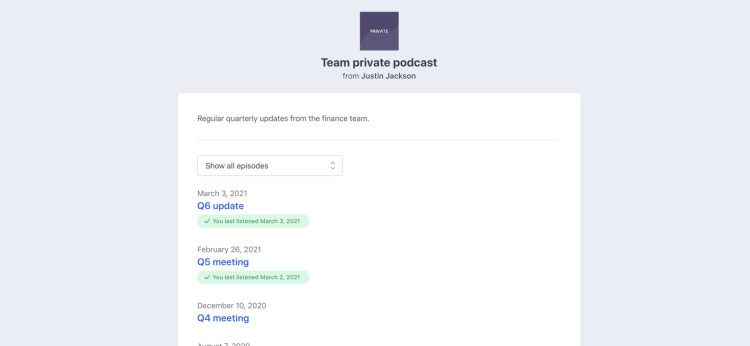 Start a private podcast for your organization
This feature will be perfect for internal company announcements, training programs, podcasts for membership sites, and audiobooks. In fact, we think that this is going to dramatically increase the uptake in subscribers listening to your private podcast episodes.