← Changelog
October 11th, 2021
Export your podcast directly from Descript to Transistor
Descript is an all-in-one audio (and video!) editing tool that makes editing your podcast as easy as editing a doc. Now you can export your podcasts — and your transcripts — straight from Descript to Transistor in a couple of clicks.
How to make the most of the Descript - Transistor integration:
Record your podcast in your platform of choice and drag the file into Descript - or save a step and record directly in Descript.

Transcribe, edit, and mix your audio in Descript. Remove filler words automatically, add music or sound effects, and drag+drop in your intro and outro. For tips on how to use Descript to edit your podcast, see their podcaster FAQ.

Once you love what you've created, in the top right corner click Share → Export → More → Transistor. 

After a few seconds, you'll be prompted to open Transistor. Log into your account, assign your episode to an existing podcast, and your podcast audio and transcript will be transferred over from Descript. 

Continue with your publishing process on Transistor!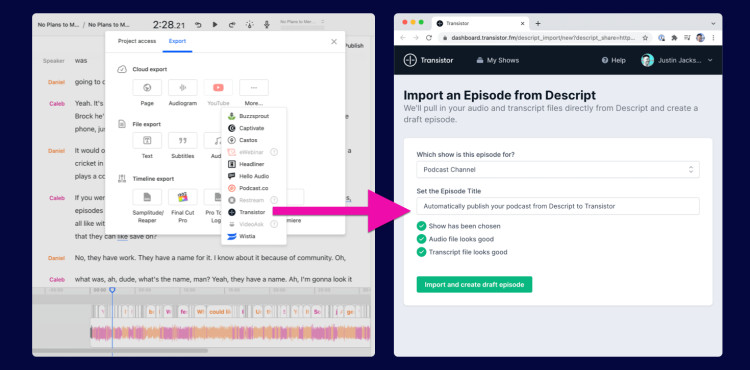 If you haven't used Descript before, click here to create an account and download the app.