← Changelog
May 8th, 2018
Deployed v1 of podcast analytics
Jon just deployed our most requested feature: detailed podcast analytics.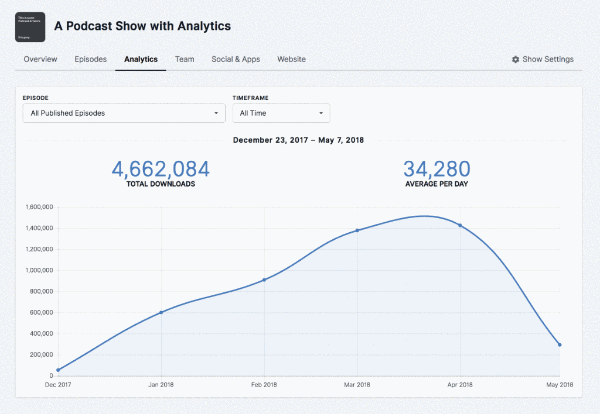 This is just the beginning for analytics. We'll continue to iterate on these features moving forward.

What do you want to see next in Transistor's analytics?
A list of total downloads for each episode. This would allow you to sort by "most popular."

Stats on what apps people are using to listen (Apple Podcasts, Spotify, Overcast, etc..)

Our best guess at how many subscribers you have.
New podcasts on Transistor:
We love seeing the variety of podcasts hosted on Transistor. Here are some recently added shows:
Google is now indexing podcasts
"Google has a new podcasting strategy that completely reimagines how people find and listen to shows."

This series by Pacific Content is fascinating.

Here's a summary of the news:
Podcasts will now appear in Google Search results. You'll see podcast episodes appear along with other results: text, image, and video.

Google Assistant just added support for podcasts. When searching for a show on Android, you'll be able to play it without needing a podcast app.

Google has lots of plans for speech and language recognition, that will also help podcasters.