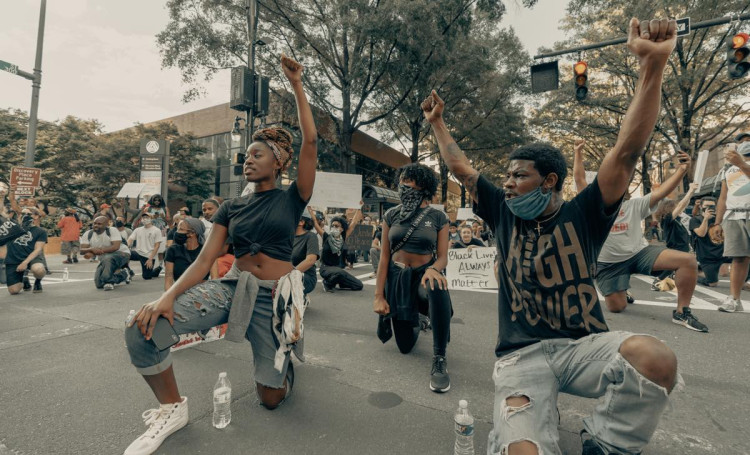 Racism isn't a problem "somewhere else;" it's prevalent in the United States, Canada, Australia, and Europe (where most of our customers are based). It affects people in the podcasting community. It affects our peers, customers, and partners. It affects our friends and co-workers.
Nobody's free until everybody's free.

– Fannie Lou Hamer
Right now, in cities across America, Black people are protesting systemic violence and oppression.
We (Jon and Justin) haven't done enough. Transistor.fm is a platform that serves the Black community, and we need to do more. We're humbled and motivated by the words of Dr. Erin Thomas:
You can directly impact the extent to which your organization counters historical inequity, inequality & injustice.
Here's what we're doing:
Listening and amplifying Black voices. Our Black friends, peers, customers, and community members are hurting; this is a time to listen to them and amplify their voices.

Educating ourselves. Books like "So You Want to Talk About Race" by Ijeoma Oluo and podcasts like Scene on Radio's "Seeing White" series have been invaluable in understanding systemic racism, and our role in it.

Acting. We've started a monthly donation to The Loveland Foundation's therapy fund. We're also supporting Podcasts in Color monthly. In the past, we've sponsored a flight to a conference for a Black tech graduate (through Diversify Tech).
None of this enough. As a company located in Chicago, and as individual citizens of the United States and Canada, we also need to push for political change.
We're listening to Rachel Rodgers who said:
We're going to wrestle with this moving forward: what will we do to put our lives on the line for people suffering from injustice?
We'll keep learning and acting. It's our goal to help dismantle systemic racism. If you want to reach us with ideas, or you need assistance, you can contact us here.
Love and respect,
Jon Buda and Justin Jackson
We say their names:
David McAtee, George Floyd, Tony McDade, Yassin Mohamed, Finan H. Berhe, Sean Reed, Steven Demarco Taylor, Breonna Taylor, Ariane McCree, Terrance Franklin, Miles Hall, Darius Tarver, William Green, Samuel David Mallard, Kwame Jones, De'von Bailey, Christopher Whitfield, Anthony Hill, De'Von Bailey, Eric Logan, Jamarion Robinson, Gregory Hill Jr, JaQuavion Slaton, Ryan Twyman, Brandon Webber, Jimmy Atchison, Willie McCoy, Emantic Fitzgerald Bradford J, D'ettrick Griffin, Jemel Roberson, DeAndre Ballard, Botham Shem Jean, Robert Lawrence White, Anthony Lamar Smith, Ramarley Graham, Manuel Loggins Jr, Trayvon Martin, Wendell Allen, Kendrec McDade, Larry Jackson Jr, Jonathan Ferrell, Jordan Baker, Victor White III, Dontre Hamilton, Eric Garner, John Crawford III, Michael Brown, Ezell Ford, Dante Parker, Kajieme Powell, Laquan McDonald, Akai Gurley, Tamir Rice, Rumain Brisbon, Jerame Reid, Charly Keunang, Tony Robinson, Walter Scott, Freddie Gray, Brendon Glenn, Samuel DuBose, Christian Taylor, Jamar Clark, Mario Woods, Quintonio LeGrier, Gregory Gunn, Akiel Denkins, Alton Sterling, Philando Castile, Terrence Sterling, Terence Crutcher, Keith Lamont Scott, Alfred Olango, Jordan Edwards, Stephon Clark, Danny Ray Thomas, DeJuan Guillory, Patrick Harmon, Jonathan Hart, Maurice Granton, Julius Johnson, Jamee Johnson, Michael Dean. There are many others.